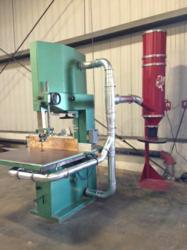 If a customer is looking to meet OSHA regulations regarding combustible dust, the Micro Air RP1 Twister is a perfect unit for a light-duty application. - Phil Roland, President, Aquest Corporation
Somers, CT (PRWEB) April 16, 2013
Aquest Corporation is the foremost expert in New England regarding combustible dust and the OSHA National Dust Emphasis Program. Over the past four years, Aquest has been involved in numerous dust collection applications and has met regulatory guidelines for combustible dust in all of them.
Since the introduction of the new regulations in 2009, Aquest has provided customers with the best possible solutions at the best possible price. Aquest continues to think outside the box when it comes to meeting OSHA regulations and works with customers to meet budgetary requirements.
The Micro Air RP1 Twister is a dust collection system for light-duty dust. It meets all OSHA requirements for a dust collector and can be installed indoors without an explosion panel.
The reason this dust collector can be installed inside is because of its size and CFM. It features a cyclonic pre-separation design that removes large dust particles before dust reaches the main filter.
The RP1 Twister comes with the capability to be mounted on a wall, hung from the ceiling, or lagged to the ground. It also features a reverse-pulse cleaning system that extends the life of the filter.
Aquest Corporation has done work in the aerospace, corrugated, textile, woodworking and food processing industries and can meet any need involving dust collection, oil mist collection, material handling, and odor control.
Aquest will be exhibiting at the upcoming EASTEC Show at the Big-E Fairgrounds from May 14th -16th. Please come and check out both number 3151.
Aquest designs, engineers, installs, and services a complete line of industrial air filtration and air pollution control systems and equipment.
Located in Somers, Connecticut with offices in Saco, Maine, Aquest Corporation has been servicing the New England region for over 26 years.