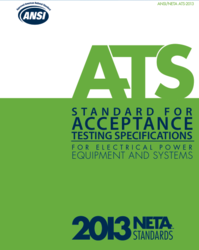 Portage, Michigan (PRWEB) April 17, 2013
Orders are now being accepted for the latest edition of the Standard for Acceptance Testing Specifications for Electrical Power Equipment and Systems (ANSI/NETA ATS-2013), a publication of NETA, the InterNational Electrical Testing Association.
The ANSI/NETA ATS-2013 specifies field tests and inspections used to assess the suitability for initial energization and final acceptance of electrical power equipment and systems.
The standard covers equipment such as switchgear, transformers, cables, switches, circuit breakers and protective relays. Also included are rotating machinery, motors, capacitors and reactors, regulating apparatus, grounding systems, batteries and emergency systems.
ANSI/NETA ATS-2013 provides references to the most up-to-date industry standards such as ASTM, EASA, ICEA, IEEE, NECA, NEMA, NFPA, UL, and others.
Those who elect to become a NETA Alliance Partner can receive savings on the standard as well as discounts on other NETA publications.
More information can be found on the NETA website at http://www.netaworld.org, by calling the NETA office at 888-300-6382 (NETA), or by email at neta(at)netaworld(dot)org.
ABOUT NETA -- NETA is an ANSI accredited standards developing organization that creates and maintains standards on electrical testing for electrical power equipment and systems. NETA is an association of leading electrical testing companies comprised of visionaries committed to advancing the industry standards for power system installation and maintenance to ensure the highest level of reliability and safety.