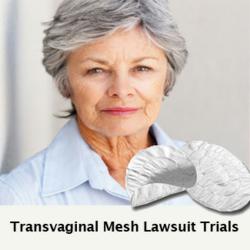 Wright & Schulte LLC offers free lawsuit evaluations to victims of transvaginal mesh injuries following implantation of vaginal mesh. Visit www.yourlegalhelp.com, or call toll-FREE 1-800-399-0795
Columbus, OH (PRWEB) April 17, 2013
Wright & Schulte LLC, an experienced medical device injury law firm representing women in transvaginal mesh lawsuits, reports that a Joint Transvaganal Mesh Status Conference has been scheduled for April 18th for thousands of vaginal mesh claims pending in U.S. District Court, Southern District of West Virginia. According to a Pretrial Orders issued in January, the April Status Conference will cover all five transvaginal mesh litigations now underway in West Virginia:

In re: American Medical Systems, Inc., Pelvic Repair Systems Products Liability Litigation
(MDL No. 2325)

In re: Boston Scientific Corp., Pelvic Repair System Products Liability Litigation (MDL No.
2326)

In re: C. R. Bard, Inc. Pelvic System Products Liability Litigation (MDL 2187)
In re: Ethicon, Inc., Pelvic Repair System Products Liability Litigation (MDL No. 2327)
In Re: Coloplast Corp. Pelvic Support System Products Liability Litigation (MDL No. 2387).
The vaginal mesh lawsuit lawyers at Wright & Schulte LLC are representing numerous women in transvaginal mesh lawsuits pending in these litigations. The Firm offers free vaginal mesh lawsuit evaluations to victims of transvaginal mesh complications. If you or someone you love suffered serious, life-altering vaginal mesh complications following implantation of transvaginal mesh, please visit yourlegalhelp.com, or call toll-free 1-800-399-0795 to learn more about your options for legal recourse.
Thousands of transvaginal mesh and bladder mesh lawsuits are currently pending in the litigations underway in West Virginia. Court records indicate that plaintiffs claim such products were defectively designed and caused severe injuries. According to Wright & Schulte, vaginal mesh has been the subject of growing safety concerns and litigation since October 2008, when the U.S. Food & Drug Administration (FDA) issued a Public Heath Notification on Vaginal Mesh advising it had received more than 1,000 complaints over a three year period relating to vaginal mesh products. In July 2011, the FDA issued another alert, noting that it had received a total of 2,864 additional reports of complications with surgical mesh implants. The agency concluded that serious injuries associated with surgical mesh for transvaginal repair of pelvic organ prolapse, were "not rare," and further advised that transvaginal prolapse repair with mesh "does not improve symptomatic results or quality of life over traditional non mesh repair."
[fda.gov/medicaldevices/safety/alertsandnotices/publichealthnotifications/ucm061976.htm]
Last month, the state court jury hearing an Ethicon vaginal mesh lawsuit in New Jersey Superior Court awarded $11.1 million to a woman who suffered injuries due to the Gynecare Prolift vaginal mesh product. The total damage award included more than $7 million in punitive damages. (Gross v. Gynecare Inc., Atl-L-6966-10, Superior Court of Atlantic County, New Jersey (Atlantic City))
[foxnews.com/health/2013/02/26/jury-awards-335-million-in-vaginal-mesh-case-against-johnson-johnson]
This past July, a California jury awarded $5.5 million to a woman who claimed to have suffered serious injuries from a C.R. Bard transvaginal mesh device. (Scott v. Kannappan, S-1500-CV-266034-WDE, Superior Court for Kern County, California)
[bloomberg.com/news/2012-07-24/bard-must-pay-5-5-million-over-vaginal-mesh-implants.html]
About Wright & Schulte LLC
Wright & Schulte LLC, a experienced defective medical device law firm, is dedicated to the belief that America's legal system should work for the people. Every day, the attorneys of Wright & Schulte LLC stand up for the rights of people who have been injured or wronged by defective drugs and their side effects, complications from defective medical devices, and unsafe consumer products, and fight tirelessly to ensure that even the world's most powerful corporations take responsibility for their actions. If you're looking for a law firm that will guarantee the aggressive and personal representation you deserve, please do not hesitate to contact Wright & Schulte LLC today. Free case evaluations are available through yourlegalhelp.com, or call 1-800-399-0795.
Contact:
Wright & Schulte LLC
812 East National Road
Vandalia, Ohio 45377
1-800-399-0795