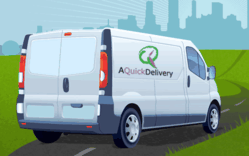 Atlanta, GA (PRWEB) April 16, 2013
AQuickDelivery, a leading same-day courier, distribution and transportation service provider nationwide, announces mapping capabilities for quick quotes. The mapping is in an effort to provide clients with visibility within their quotes to promote user friendliness, technology convenience, and sales growth. AQuickDelivery strives to be the courier of choice for same-day delivery solutions in Georgia and throughout the US.
The mapping capability is found within the quick quote service on the home page of the AQuickDelivery website. For convenience, AQuickDelivery customers have the ability to create a quick quote from various other locations on the site as well. When a customer performs a quick quote, the services that are available within their specified time of pick up are displayed, along with the price for each service type. Below the quick quote prices, AQuickDelivery has added a mapping capability. It is a visible mapping of how to travel from the origin to the destination. The mapping technology is created via Google Map.
The mapping capability within the quick quote offers clients a number of benefits. Customers can increase or decrease the size of the map and see exactly the possible accurate route our driver could take. They can also use the map as a convenience, opposed to viewing separate browsers online, as they decide on the best origin location to pick up their package from. With the map within the quick quote, customers can view the city of Atlanta and Metro Atlanta, as they plan for future courier service requests.
Quick Quotes are made more simple and easy with the value-added function of mapping visibility. Customers can contact AQuickDelivery 24/7 for any questions regarding their quick quote or even the routing of their drivers. Customer care is also available during business hours for customers who have questions regarding special pick up and delivery service requests. Clients can utilize the map, while discussing their service request with a customer representative. AQuickDelivery will continue to use modern technology to produce optimal web and service experiences for their customers throughout Georgia.
AQuickDelivery is a leading same-day delivery courier for messenger, distribution and transportation services. From small packages to palletized freight, AQuickDelivery performs their courier service fast. The Atlanta courier provides superior customer care, optimal delivery expertise, and modern courier technology to offer the best in same-day delivery logistic solutions. Based in Atlanta, Georgia, AQuickDelivery provides quality same-day delivery services to a growing list of over 1,500 clients, including Fortune 500 Companies nationwide.