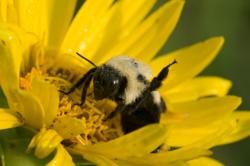 As the world population increases to nine billion over the next few decades, we need to find ways to make more food from the same amount of land.
Arlington, VA (PRWEB) April 16, 2013
Two recently released studies co-authored by The Nature Conservancy's Christina M. Kennedy underscore just how important wild bees are to global agricultural production. Bees may seem like uninvited guests at a picnic, but before they're shooed away from the fruit salad, people should consider the role they play in bringing food from the field to the fork.
The reports, published in the journals of Science and Ecology Letters, examined trends in insect pollinators – bees in particular -- and their pollination services on at least 600 fields from about 40 crop systems across six continents. These combined studies illustrate the impact of field practices and landscape design on the health of wild bees, and find that wild bees pollinate staple food crops such as almonds, apples, blueberries, canola, cranberries, coffee, grapefruit, macadamia, squash, tomatoes, and watermelon, more effectively than managed honeybees.
While domesticated honeybees, often used by farmers, transported more pollen from plant to plant, wild bees proved to be more effective in successfully pollinating crops. In fact, wild bee pollination nearly doubled the proportion of flowers that developed into mature fruits or seeds relative to managed honeybees.
This research suggests that agricultural intensification, including the use of pesticides, synthetic chemical inputs, large field size, low crop diversity, and loss of natural habitats surrounding farms have negative effects on wild bee populations. The implications are important for farmers around the world, according to Kennedy. Simple adjustments at the field-level, such as incorporating natural spaces on the margins of existing cropland and reducing usage of bee-toxic chemicals can help support wild bees, which in turn benefit crop yields. Simultaneously, we need to conserve and enhance natural and semi-natural habitats in our farming landscapes.
"As the world population increases to nine billion over the next few decades, we need to find ways to make more food from the same amount of land," said Kennedy. "Any finding that can help farmers achieve this 'sustainable intensification' is another tool in the toolbox of feeding the world."
Conservation and field practice toolset for farms large and small:

Reduce the use of bee-toxic pesticides, herbicides and other synthetic chemical inputs
Plant smaller fields of different flowering crops
Increase the use of mass flowering crops in rotation
Break up crop monocultures with natural features such as hedgerows, reduced tillage meadows, or semi-natural woodlands
Combining best practices from agriculture and environmental conservation can lead to more stable, healthier crop yields at a time when food demand is spiking. Wild bees, the ones most likely to be encountered on a picnic, may not sound like fun, but no one could have a picnic without them.
xxxxxx
The Nature Conservancy is a leading conservation organization working around the world to protect ecologically important lands and waters for nature and people. To date, the Conservancy and its more than one million members have helped protect 130 million acres worldwide. Visit The Nature Conservancy on the Web at http://www.nature.org.