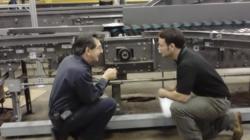 Bristol, CT (PRWEB) April 15, 2013
Conveyco, an integrator of automated material handling systems and design/build solutions, announced the launch of its updated, expanded Life Cycle Support Service portal http://www.conveyorandparts.com.
This website creates a virtual community where users can find solutions to maximize uptime for their material handling systems and increase operational productivity. Website components include:

Parts Procurement
Service Offerings
A link to parent company Conveyco for information on its System Integration Services
"Service and support are the core of who we are as a company," said Ray Cocozza, SVP of Conveyco. "ConveyorandParts has evolved to its 'new and improved' format because of our desire to do more for our clients, not only during the build experience and system deployment, but through their projects' entire life cycle."
"Our Life Cycle Service & Support department grew over 100% in 2012. The management team at Conveyco has committed the resources necessary in staff and capital to sustain continued growth here and become an industry leader in setting the standard of excellence," said Bryon Gionet, Systems Support Manager.
The ConveyorandParts website now features updated parts offerings from industry leading suppliers of conveyor and allied facility equipment, including Intelligrated (including the former brands of Buschman, FKI Logistex, and Mathews Conveyor), TGW, Ermanco, Automation, Transnorm, Unex, Richards Wilcox, Thermo Scientific, Wildeck, Baldor, Allen Bradley, and Eaton.
In addition to the expanded product offerings, the website also offers an expanded service area featuring:
System audits
Preventative maintenance
High speed sorter rebuilds
Maintenance program orientation/training
24/7 support
Conveyco (http://www.conveyco.com) , a material handling systems integrator, with a team of best-in-class engineering talent, works closely with its supply chain clients to design original, reliable, street-smart solutions that help them overcome their toughest challenges in the movement, storage, control and protection of materials and goods throughout their manufacturing and distribution operations. From problem definition to implementation, Conveyco's collaborative work ethic enables its clients to achieve their goals for enhanced profitability and to compete more successfully within their industries.