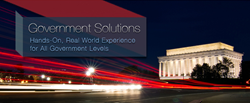 The DoD Directive 8570.1 recognizes the importance of being up to date with the most current essential skills in data security for the nation's Department of Defense
New York, NY (PRWEB) April 18, 2013
NetCom Learning announces they are offering a variety of CompTIA CASP certification training solutions to help meet the timetable required for IT training by the United States Department of Defense. The Directive 8570.1 from the United States Department of Defense states that all personnel including military service personnel, defense contractors, foreign and civilian employees who have privileged access to the Depart of Defense computer systems must be certified in the applications and concepts geared at protecting government data, information systems and networks. NetCom Learning, a platinum level training partner for CompTIA, offers authorized training in CASP certification which provides the security level training specified in the DoD Directive 8570.1. Now NetCom Learning offers special pricing solutions including a Learning Voucher Pass and a Learning Saving Pass to make security training more economical.
"The DoD Directive 8570.1 recognizes the importance of being up to date with the most current essential skills in data security for the nation's Department of Defense," said Russell Sarder, CEO of NetCom Learning.
"The CompTIA CASP certification is the internationally recognized certification which designates the holder of the certification as a person who is professionally trained to ensure the safety and security of enterprise data systems. NetCom Learning is now offering economical paths to ensure that necessary security training can be achieved in an efficient and sustainable manner," said Sarder.
CASP certification
The CompTIA Advanced Security Practitioner (CASP) certification provides its holders with an internationally accepted vendor neutral advanced level of security skills in enterprise security, risk management, and security research and analysis. CompTIA CASP certification training available from NetCom Learning is a forty hour training program that prepares students to take the CASP certification exam which covers knowledge in conceptualizing, designing and engineering secure solutions for an enterprise wide environment. Students interested in pursuing CASP certification must hold the required prerequisites of the A+, Network+, and Security+ certifications. NetCom Learning is a platinum level authorized trainer for CompTIA.
Pricing options
NetCom Learning offers a variety of pricing options for government organizations including a Government Training Solution for Federal, State and local government agencies with a special government learning discount, the Learning Voucher Pass and the Learning Savings Pass programs. The different pricing options provide flexibility and optimal return for investment dollars. NetCom Learning Consultants are trained to be able to offer the optimal training solution based on client need.
Webinars
To deliver more information on CompTIA CASP training, NetCom Learning offers variety of free informational webinars including:

CASP: A certification for technical security leaders
CompTIA Continuing Education Credits – Why you should enroll
IT Security: Why get certified.
Why NetCom Learning?
NetCom Learning is the most trusted name in both business and IT training and offers top notch instructors with an average of 16 years of experience and vendor approved coursework offering certification preparation for a variety of vendor certifications. NetCom Learning instructors who routinely achieve high ratings from their students possess an average of 16 years of experience and a cumulative average of more than 10,500 years' experience in the field of their expertise. Instructors carry an average instructor evaluation of 8.6 out of 9, one of the highest instructor evaluations in the industry. The high quality of training has resulted in over 1,700 testimonials and a 96% customer satisfaction rate with those customers indicating they would recommend NetCom Learning to others.
To learn more about CompTIA Advanced Security Practitioner (CASP) training events, visit: http://www.netcomlearning.com/products/185/CompTIA-Advanced-Security-Practitioner-CASP-training.html?advid=412
About NetCom Learning
NetCom Learning is an innovative leader in IT, business and executive training to companies, individuals, and government agencies. Since its inception in 1998, NetCom Learning has trained over 80 percent of the Fortune 100, serviced over 45,500 business customers, and advanced the skills of more than 71,000 professionals through hands-on, expert-led training, with the organization maintaining an average instructor evaluation score of 8.6 out of 9. NetCom Learning was recognized by Microsoft Corporation as its Worldwide Training Partner of the Year and named thrice to Inc. Magazine's list of fastest growing private companies in America. The organization was also recently named to the 2012 Top 20 IT Training Companies by TrainingIndustry.com and was named "Company of the Year" by the American Business Awards.
The purpose of NetCom Learning is to promote the values of lifelong learning.