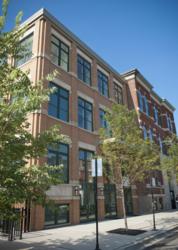 The goal was clear that getting the children back in a safer and modern facility was the main focus, not individual profit.
Chicago, IL (PRWEB) April 16, 2013
Tandem Construction will join Cook County Board President Toni Preckwinkle, Union League Club representatives, architects from Antunovich Associates, project donors and children served by the Union League Boys and Girls Club at noon on April 22 in a grand opening and ribbon cutting ceremony celebrating the successful completion of the $4.5 million renovation of the Club One facility at 2157 West 19th Street. The extensive and complicated project marks the first major upgrade to the facility in 90 years and highlights the value that a collaborative approach can bring to a major renovation.
"Typically these projects are design-bid-build, and many times when initial estimates aren't in-line with budgets, they become design-bid-redesign-rebid-build," says Tony Andrews, vice president of construction for Chicago-based Tandem Construction. "Instead, we worked closely with the architects from the very beginning to collaborate on design and ensure the Union League gained the building they wanted while remaining sensitive to their budget. This unique approach is not only more efficient, but also helps keep costs under control throughout the construction process."
The multi-phase project took more than a year to complete and included building a 17,000 four-story annex adjacent to the main building as well as remodeling 18,000 square feet of the original Club One facility. Walls between the old building and annex were opened to connect the spaces on all four floors, doubling usable activity space from 16,000 to 35,400 square feet.
"All parties were open in presenting time and money saving ideas to the others without being concerned about personal advantage," explains Union League Trustee Michael Chioros. "The goal was clear that getting the children back in a safer and modern facility was the main focus, not individual profit."
Tandem's Andrews adds, "We worked closely with architect Antunovich Associates to value engineer many aspects of the building, such as the mechanical systems, which helped reduce costs by more than $500,000. We were also able to reduce window costs by introducing a more efficient fiberglass product instead of aluminum."
Antunovich Associates Principal Jeff Zelisko maintains that trust among all parties and having an "open book and open door policy" was critical to working closely as a team. "When unforeseen issues did come up, as they tend to do in a complicated project such as this, we were all able to come together and discuss how they could be handled in ways that would reduce or eliminate any extra costs."
The rehabbed facility features two new gymnasiums, a science lab, two multi-purpose activity spaces, expanded kitchen facilities, a state-of-the-art technology center, weight rooms, locker rooms and a dance room. What's more with a new elevator, accessible entrances and ADA-compliant restrooms, the entire facility is now fully accessible and compliant with the Americans with Disabilities Act.
"Combining a new facility with the old one also enabled us to add modern infrastructure including HVAC, plumbing and electrical systems as well as a state-of-the-art fire suppression system," says Andrews.
As the general contractor, Tandem is credited with creating a dynamic project plan and construction timeline that minimized disruption to Club programming.
"It simply wasn't an option to shut down a facility that is so vital to the children in the area," says Andrews. "We phased the project so that Club activities could continue in the original facility as the new addition was built, and then move over to the new facility as the original building was renovated."
The new and expanded Union League Boys and Girls Club is expected to help increase membership by up to 25 percent, or 800 new members. Average daily attendance at Club One is expected to double.
About Tandem Construction, Inc.
Chicago-based Tandem, Inc. is an award-winning, full service construction and architecture firm specializing in commercial projects, luxury residences and exterior spaces. Since its founding in 1997, Tandem's work has been guided by the shared values of collaboration, accountability, efficiency, perseverance and integrity. The company takes pride in exceeding clients' expectations and working "in tandem" with complex project teams to gain efficiencies, reduce costs and create optimal results. For more information visit http://www.tandeminc.net
About The Union League Boys & Girls Clubs
The Union League Boys & Girls Clubs provide positive alternatives to help young people become responsible citizens by opening the doors to the future. For 93 years, the Union League Boys & Girls Clubs have served thousands of children in six well-equipped, professionally staffed inner city Chicago clubs in the Pilsen, West Town and Humboldt Park communities. The organization also staffs and manages its own 250-acre summer camp in southern Wisconsin where youths from Chicago's inner city spend weeks in an environment free from drugs, gangs and violence. To learn more about how you can help support the Union League Club Boys & Girls Clubs visit http://www.ulbgc.org
About Antunovich Associates
Antunovich Associates is an architectural, planning and interior design firm with a broad range of professional expertise that includes master planning, programming and design of large mixed-use commercial developments, corporate campuses, historic preservation and adaptive re-use, museums, office buildings, higher education facilities, multi-family residential and retail/commercial. The company's mission is to create successful design solutions in a timely and cost-effective manner. Antunovich Associates is rooted in the belief that creating exceptional projects is a collaborative process between the client, the builder and the architect. For more information visit http://www.antunovich.com