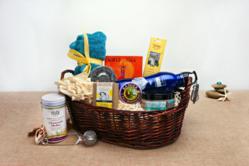 Atlanta, GA (PRWEB) April 17, 2013
Eco Chic Gift Baskets announced this month the re-launch of its website, ecochicgiftbaskets.com, a one-stop shop for organic and indulgent gift baskets. The new site features familiar favorites as well as an entirely new line of gift baskets filled with natural, earth-friendly products to suit a broader range of gift-giving needs.
Every product contained in an Eco Chic basket is carefully selected to ensure it meets the exacting requirements of the Eco Chic line, including luxurious personal care and lifestyle items that reflect a deep respect for protecting the planet.
In addition to its familiar and well-loved line of organic and earth-friendly baby and spa gift baskets, Eco Chic's expanded line includes four new baskets that make ideal gifts for birthdays, holidays and just to show someone how special you think they are.
The Warrior II Organic Yoga Basket is ideal for yoga and exercise enthusiasts, and offers a music CD featuring contemplative sounds ideal for stress-free workouts, an organic towel and body sponge, adzuki bean and sea salt scrub, yoga and meditation rub, incense and other products to help the recipient relax and find balance.
The Stress Be Gone Basket offers a range of products selected for their ability to banish tension and achieve a state of relaxation and includes a stress relief CD, an aromatherapy candle with stress-releasing scents, mint-scented soap and other natural, organic products to encourage tranquility.
Evening Rest is filled with products like tea, cocoa and sleep balm to help recipients end their day in a natural, pleasurable way.
Tickle Someone Pink offers – you guessed it – a variety of pink-themed natural products, like an exquisite recycled journal, ylang ylang and geranium soap and a vanilla raspberry soy candle, and more.
About Eco Chic
All baskets designed and offered by Eco Chic Gift Baskets are chock full of products developed by companies who care about the earth and are dedicated to earth-friendly practices. Even the baskets lend themselves to reuse: Once the products are gone, each basket is stylish and attractive enough to fit well with any home décor.
Eco Chic Gift Baskets is committed to offering quality organic that demonstrate a deep commitment to the planet and its inhabitants. Every basket is designed to meet the unique needs of a broad range of recipients, making them an ideal choice for any gift-giving occasion. Ecochicgiftbaskets.com is a 3dcart ecommerce website.