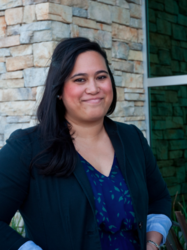 It's an honor to be recognized among other influential peers and fellow women in business
LOS ANGELES (PRWEB) April 16, 2013
Aljolynn Sperber, social media manager at Marketing Maven Public Relations, was nominated for a 2013 San Fernando Valley Journal Women in Business Rising Star award. The Rising Star award celebrates the region's most dedicated women who have shown significant improvement and expertise in their industry.
In their 12th year, the San Fernando Valley Business Journal will be honoring women of outstanding achievement. The Women in Business Rising Star award distinguishes professionals under 40 years of age in their respective industries and communities as role models by having made an impact with their growth and success.
"We are so proud to congratulate Aljolynn on this impressive recognition," said Lindsey Carnett, CEO and president of Marketing Maven Public Relations. "She has really distinguished herself as a social media expert by successfully going beyond our client campaign goals."
Sperber's passion for her role as the social media manager at the agency and about Marketing Maven Public Relations' clients is transmitted to her peers. Her growth since her start at the agency has been exponential and has gained the recognition of Rising Star by San Fernando Valley Business Journal Women in Business Award.
"It's an honor to be recognized among other influential peers and fellow women in business," said Sperber. "For me, it's important to always stay on top and ahead of social media trends to give our clients the leading edge in their industry. I am committed and dedicated to helping Marketing Maven Public Relations' social media division grow through successfully executing client campaigns."
Sperber's own expertise spans from product launches to the financial industry and beverage industry, where she recognized influencers in Hispanic media to better drive sales and coverage for her clients.
By constantly staying on top of the latest social media trends, Sperber became familiar with the most influential online individual and best SEO/SMO practices. She has assisted clients such as a major beer manufacturer identify their key influencers to help build online brand awareness amongst the Hispanic community. An advocate of using Social Media as a tool for customer service, she has helped clients like Baby Trend with their online reputation management. By using promotions and social media advertising, her execution of social media initiatives have led to increased sales for clients and top trending topics in Twitter. Her talents of managing social media campaigns have enabled clients to grow online visibility and gain customer brand loyalty.
In October 2009 after working in the finance and retirement community industries, Sperber joined Marketing Maven Public Relations. Since then, Sperber has set and consistently met goals to help clients make their mark in the online hemisphere. She recently coordinated a Twitter Party for a baby product client that become one of the top three trending parties and cemented the client as an industry expert.
For more information about Sperber and her role as a social media manager at Marketing Maven Public Relations, please visit http://www.marketingmavenpr.com.
About Marketing Maven Public Relations, Inc
Bicoastal PR firm, Marketing Maven Public Relations, Inc. is an innovative and exclusive public relations agency that under promises and over performs. Founded by Lindsey Carnett in 2009, the agency specializes in lifestyle and consumer products, companies and events. Additional services include social media campaigns, reputation management, direct response marketing, SEO, celebrity gifting and Spanish media relations. Marketing Maven Public Relations, Inc. develops newsworthy mainstream issues relevant to the clients' product or service. With offices in New York, the agency then creates media interest and delivers the clients' message to the masses, creating a demand from the target demographic.
Marketing Maven Public Relations, Inc. also has an expertise in Direct to Consumer marketing as well as product development and PR for supplements and ingredients. The agency has the ability to earn product distribution at retail and helps find funding for national product launches. With representatives across the globe, the Marketing Maven Public Relations, Inc. team has strong relationships with local, national and international media. Visit http://www.MarketingMavenPR.com for more information about the company.