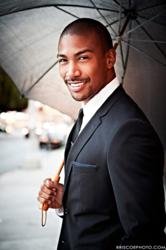 Today my plate is so full... it's become a constant reminder of how grateful for what I learned and the experience I gained at SHINE!
Atlanta, GA (PRWEB) April 20, 2013
We've seen Charles Michael Davis run across the small screen in Nikes, Asics and New Balance and as Dr. Jason Myers on Grey's Anatomy. He's grinned at us from print ads for E! Entertainment, Verizon and PlayStation and now his fourth film has landed him a major role in Another Stateside (post-production) with Fairuza Balk and Zane Holtz. Previously he starred in The Learning Curve, Mi Ricordo and Thanksgiving Seconds (short).
Davis was in The Client List, ABC Family's Switched at Birth, BET's The Game, Night and Day, and CSI. Currently he's taking the role of Marcel, on The CW's "the Originals" where he will make his first appearance in the 20th episode of Season Four.
His modeling list is even longer with Nike, Skechers, Ross, Footlocker, Inter Sport, Score, Nokia, Sony SingStar, Coors Light and TV Commercials for Subaru, Target, Excel, Foot Locker, McDonald's Cafe, Pontiac, Wells, Fargo, Kenmore, Intuit, QuickBooks and Wrigley.
Originally from Dillon, South Carolina, Davis is a photographer with a great sense of humor and dabbles in producing TV mini-series like The Life Genie (associate producer).
Davis attended the Actors, Models and Talent for Christ (AMTC) SHINE showcases in Orlando, Florida, and has high praises for where it lead him. He says, "It started...after signing with my mother agency, Wings Model Management. I awoke one Saturday morning to receive a call from my agent. He offered me the opportunity to pursue my dreams at SHINE. Boy, am I glad I took him up on it. Long story short, we came, we saw, we conquered."
SHINE is the bi-annual talent convention hosted by Actors, Models and Talent for Christ (AMTC). During the past three decades, AMTC set the standard for serving an unprecedented array of talent agents, managers and casting directors as the "go-to" source for new and aspiring actors, models, singers and dancers. AMTC alumni have been featured in over 600 major motion pictures, television series and Broadway shows, including Footloose, We Bought A Zoo, Identity Thief, Star Trek Into Darkness, Courageous, The Amazing Spiderman, The Secret Life of Dorks, Grey's Anatomy, The Good Wife, Private Practice, Switched at Birth, Bones, Lab Rats, 90210, American Idol, So You Think You Can Dance, Lion King, Chorus Line, Les Misérables, 9 to 5, Bring It On and Hairspray.
Davis says, "I took that confidence with me and two months after SHINE I packed up and drove to LA. Another two months after that I booked my first television audition for That's So Raven. After landing the role I became a member of the Screen Actors Guild and since then the ball continued to roll. Today my plate is so full with theatrical, commercial, print, voice over, hosting, and producing gigs that it's become a constant reminder of how grateful for what I learned and the experience I gained at SHINE!"
AMTC, a 501c3 non-profit ministry dedicated to making good bolder in film, fashion, music and theater, is currently holding auditions in major cities across the country for the next official SHINE talent showcase being held July 2-7, 2013 at the Gaylord Palms, as confirmed by corporate representatives. They are looking for performers ages 4 and up who want to become positive role models in the entertainment industry.