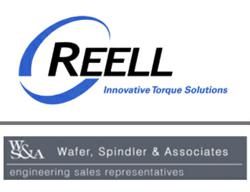 WS&A offer the combination of strong technical expertise and relational selling that is needed to represent Reell technology. They are outstanding partners...
Saint Paul, MN (PRWEB) April 17, 2013
Reell Precision Manufacturing, a world leader in small package position control, is pleased to announce that beginning immediately, Wafer, Spindler and Associates of Ellicott City, Maryland will be representing Reell in the Mid-Atlantic region.
Established in 1967,WS&A is one of the premier manufacturers representative sales organizations in the Mid-Atlantic region. They provide technical sales, local engineering support, and an extensive market knowledge to the companies they represent. Their full line of electronic and mechanical component products is designed to provide a synergistic value to the OEM markets and customers they serve.
Reell VP of Sales and Customer Service Jack Field is excited about the partnership, "We are very pleased that WS&A have joined the Reell sales and marketing team. They offer the combination of strong technical expertise and relational selling that is needed to promote Reell products. They are committed to the Mid-Atlantic region and have extensive market knowledge. They are outstanding partners to represent Reell."
WS&A President Jeff Spindler sees Reell products as a good fit with their existing product line, "Wafer, Spindler & Associates are both pleased and excited with the addition of Reell to our firm's product offering. The technical nature of Reell's products is synergistic with our customer base. We look forward to a long and mutually beneficial relationship with Reell!"
Reell Precision Manufacturing provides high-quality innovative solutions to transmit torque, control angular position and protect delicate components from excessive force. Combining the worlds most precisely controlled torque technology with the industry's most experienced engineering team provides a perfect product fit in customer applications. Reell's patented technology is widely used in the consumer electronics, automotive, office automation, and medical industries.
Follow Reell on twitter: @reell