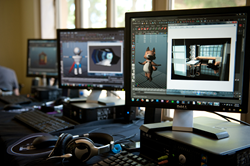 Through the Digital STEAM Workshop, Maya users of all ages are able to experience the 3D design process from start to finish. Even students with no prior knowledge of the program can quickly learn to develop sets, models, characters, and effects...
Campbell, CA (PRWEB) April 15, 2013
Last summer, Autodesk selected iD Tech Camps, the national leader in summer technology camps for kids and teens, to participate in a case study for their Digital STEAM (Science, Technology, Engineering, Art, and Math) Workshop. Specifically, the Digital STEAM Workshop was integrated into iD Tech Camps' existing Autodesk Maya - 3D Modeling & Animation course as a means to observe the educational impact of the free online learning tool. The results of the case study are now available online.
For students just starting out with Autodesk® Maya® 3D animation software, the Digital STEAM Workshop introduces basic principles in a fun way. Its highly visual curriculum provides engaging, project-based learning in or outside the classroom, and can stand alone or be integrated into an existing educational program. Each project includes comprehensive videos, lesson plans, data sets, and real-time 3D interactive views of completed projects. With the Digital STEAM Workshop, students are guided every step of the way while learning to use new software.
As the leader in 3D modeling and animation software, Maya has been bringing entertainment to life since the late nineties. For those who have ever wondered what gives modern video games that sleek, futuristic look, or how 21st century filmmakers pull off seamless visual effects, it is likely that Autodesk Maya was one of the main tools responsible. With the help of Autodesk Digital STEAM Workshop, iD Tech Camps has placed the power of 3D in the hands of students and summer STEM educators.
Through the Digital STEAM Workshop, Maya users of all ages are able to experience the 3D design process from start to finish. Even students with no prior knowledge of the program can quickly learn to develop sets, models, characters, and effects and give their creations another dimension with animation. The program also features top-quality renderers—the components that finalize productions and give them the polished, professional aesthetic you're accustomed to seeing in Hollywood blockbusters like The Hobbit: An Unexpected Journey, and Wreck-It Ralph. This year, Maya was used in the production of every Academy Award nominee for Best Visual Effects and Best Animated Feature.
Within the case study, iD Tech Camps students created fifteen-second, animated previs movies based on the Digital STEAM Workshop's "Save Our Fish" project. Videos addressed important environmental issues like recycling and littering. One 16-year-old student created a powerful 3D rendering about the dangers of smoking. Techniques learned from the Digital STEAM Workshop, like grouping, UV mapping, and 2D texturing, helped maximize the impact of these pre-visualizations.
Students found Maya to be powerful but simple to use with the help of Autodesk Digital STEAM Workshop. "Many students created a complete character for their project and really got excited about animation," says Randy Polliard, Curriculum Manager for iD Tech Camps. "They learned the fundamentals of Autodesk Maya as well as other components of good storytelling, such as basic cinematography and camera positioning."
iD Tech Camps currently offers the Autodesk Maya–3D Modeling & Animation course to teens ages 13-17 at many of their sixty locations across the U.S. In just one-to-two weeks, students can create impressive 3D projects they may use as a basis for a future portfolio for college or even a professional career.
This summer, even more iD Tech Camps students will create 3D models, animations, and previs projects using Autodesk Maya and Autodesk Digital STEAM Workshop. For the young, aspiring animator, game designer, or filmmaker, working with the same award-winning software that professionals use creates the "cool factor," and also helps build confidence. As the Digital STEAM Workshop has shown with iD Tech Camps and in the classroom, the ease with which educators can incorporate Autodesk Maya into their curriculum is empowering.
Those interested in the entire study can read it here.
Free* Autodesk software and other STEAM projects can be accessed by visiting the Autodesk Education Community and the Autodesk Digital STEAM Workshop.
ABOUT iD TECH CAMPS AND iD TEEN ACADEMIES
iD Tech Camps and iD Teen Academies engage students ages 7-18 in STEM education with summer programs for kids and teens held at over 60 prestigious universities nationwide, including Stanford, Princeton, and others. Sessions are weeklong, day and overnight. Teens can build online portfolios and explore future career paths at iD Gaming Academy, iD Programming Academy, and iD Visual Arts Academy. Visit http://www.internalDrive.com or call 1-888-709-TECH (8324).
ABOUT AUTODESK
Autodesk helps people imagine, design, and create a better world. Everyone from design professionals, engineers, and architects to digital artists, students, and hobbyists uses Autodesk software to unlock their creativity and solve important challenges. For more information visit autodesk.com or follow @autodesk.
*Free Autodesk software and/or cloud-based services are subject to acceptance of and compliance with the terms and conditions of the license agreement or terms of service that accompany such software or cloud-based services. Software and cloud-based services provided without charge to Education Community members may be used solely for purposes directly related to learning, teaching, training, and research and development that are part of the instructional functions performed by a primary or secondary educational institution or any degree-granting or certificate-granting institution or any learning, teaching, or training facilities. Such software and cloud-based services shall not be used for commercial, professional, or for-profit instructional or any other purposes.
Autodesk and Maya are registered trademarks or trademarks of Autodesk, Inc., and/or its subsidiaries and/or affiliates in the USA and/or other countries.