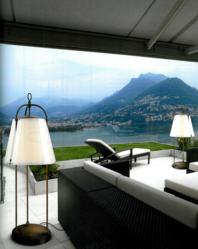 "Italian designer Aldo Bernardi is illuminating outdoor spaces with rustic-chic lighting that's intended to bring indoor ambiance outside." - "Blurring The Lines", Collection by Robb Report, June 2012.
Indianapolis, IN (PRWEB) April 16, 2013
Ollier Distributors Inc., the exclusive distributor of Aldo Bernardi lighting in the USA and Canada, announces the addition of stationary outdoor floor lamps with aged brass bases to Aldo Bernardi's outdoor living collection.
The new floor lamps will be added to Aldo Bernardi's current collection of outdoor lighting designed to expand the living room beyond the house. The outdoor living collection includes lighted gazebos, pergolas, trellises and floor standing lamps. Outdoor living rooms are increasingly becoming a popular way for homeowners to add value and functional living space to their homes. Humans intrinsically have a desire to connect with and be close to nature, and an outdoor living area satisfies this in addition to creating space for lounging and entertaining.
The outdoor floor lamps - Pitosforo and Caprifoglio - feature a clean and modern silhouette and are made of aged brass tubing, with shiny white methacrylate shades and concrete bases covered with aged copper. These floor lamps are ideal for use under gazebos, pergolas or in any outdoor living room to create ambiance by day or night. The classic lines of the floor lamps lend themselves to an array of design styles from contemporary to transitional.
For pricing or sizing information on the floor lamps please contact Ollier Distributors at 317-634-5000 or via email at info(at)carolollier(dot)com.
About Aldo Bernardi, srl:
Aldo Bernardi established his lighting factory in the early '70's in a small village located outside of Venice in an area renowned for its traditional artisan cottage industries, based on the availability of rich local natural resources. These industries are what inspired Aldo Bernardi's signature Farmhouse Modern classic collection of lights, and the local craftsmanship is strongly reflected throughout Aldo's lighting lines. Despite today's ever increasing demand for Aldo Bernardi's light fixtures and the fast turnaround clients require in production, Aldo Bernardi still relies on handcrafted manufacturing and uses a modular manufacturing approach and advanced quality control system to deliver the quality clients desire at the speed which they need the product. Aldo Bernardi designs top quality products that blend the classic and simple beauty of the past with today's need for practicality, resulting in a wide range of interior and exterior light fixtures and garden structures in sophisticated combinations of brass, copper, ceramic, hand-blown glass, steel, and his new precious metal finishes. Aldo Bernardi lighting beautifully accents a wide variety of design settings ranging from residential and hospitality to the traditional and contemporary. For more information go to, http://www.aldobernardi.us.
About Ollier Distributors Inc.:
In 2009, Ollier Distributors Inc. officially launched Aldo Bernardi lighting to the USA and Canada. Ollier Distributors is a small family owned and operated business based in Indianapolis, IN and have the exclusive distribution rights for Aldo Bernardi lighting in the USA and Canada. Ollier has worked extensively to have Aldo Bernardi lighting collections UL certified and adapted for the American market. Ollier Distributors strives for 100% client satisfaction by actively assisting clients in selecting their lighting, ordering, and coordinating shipping and delivery, making the process as simple as possible for clients. Ollier is commited to excellence in the design industry and are a trade protected company. Ollier's goal is to support the design trade through providing a quality product that has the versatility to match a wide range of design styles and applications, making Aldo Bernardi lighting collections a staple in the interior design industry. For more information go to, http://www.carolollier.com.