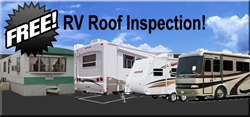 Jensen Beach, Florida (PRWEB) April 15, 2013
Never Leak RV Roofing is a mobile RV Roofing company that also has a warehouse in Stuart, FL. For all RV roofing needs, new roofs, re-roofs, leak repairs, interior RV remodeling, RV/Marine detailing and products, serving all of Florida. Never Leak RV Roofing has 28 years experience repairing RV roof problems which has given insights into what works.
The safe-t-plex system is a combination of a single-part, acrylic, elastomeric roof coating and fiber-backed roof seam tape possessing incredible adhesive and water proofing qualities. The coating forms a tough, resilient membrane over aluminum, sheet rubber(EPDM), fiberglass and plywood.
Because safe-t-plex is made from only the highest quality 100% acrylic resin, safe-t-plex will never dry out, chalk, crack, peel and is resistant to impact, temperature extremes and the effect of intense sunlight.
Safe-T-Plex Elastomeric Coating offers long-term, maintenance-free protection up to 20 years or more and is bright white, 92% reflective surface and cleans itself every time it rains. Visit their web site at https://rvroofrepairflorida.com/