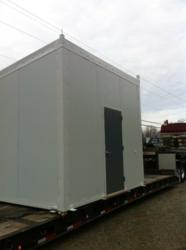 Lets us build your pre-assembled building today.
Atlanta, GA (PRWEB) April 15, 2013
MWTI,LLC. http://mwtillc.com/products/pre-assembled-buildings/exterior-buildings has released its newly designed pre-assembled buildings for general use. The modular buildings roof and wall system consists of sandwich-style construction for strength and reliability. The sandwich panels are from 2" to 7" thick depending on its intended use. The frame is heavy gauge steel tube for the wall system. The wall system accommodates a variety of door sizes and types as well as windows both half light and full light.
The roof system uses the same sandwich panel system as the wall and was designed to accommodate sky lights for added efficiency.
The wall and roof panels come in a variety of interior and exterior surfaces to suit the customer's needs.
The Floor system may be c-channel or I-beam construction depending on the floor loading required by the customer. The customer may select a variety of floors that best suit their needs from basic B-Deck with plywood and vinyl sheet goods to Steel or Aluminum diamond plate with many others available.
MWTI, LLC. Can design the pre-assembled building to be Crain lift able, forklift able or both making it extremely versatile and well adapted to most any use or place it can be set for service.
Due to the flexibility of the pre-assembled building to adapt to almost any use, its rugged industrial design and the fact that it can be placed anywhere, it has been well received by the industrial community.
Contact:
Mike Ray
1201 Peachtree St. N.E.
400 Colony Square STE 200
Atlanta, GA 30361
Phone: 404-363-6600
http://www.mwtillc.com
mike(at)mwtillc(dot)com