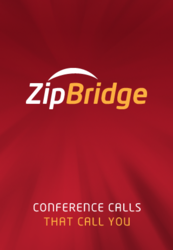 New Hope, PA (PRWEB) April 18, 2013
ZipBridge and AMG Alerts announced a new strategic partnership allowing AMG Alerts clients to use the ZipBridge instant outbound conference calling service from within the AMG Alerts mass notification service.
By using this new integration, AMG Alerts administrators can now launch an outbound conference call for a group just like they could already send them an email, text message or voice message. When an AMG Alerts administrator selects the private labeled conference calling option, all the members of the group are called on two different numbers and bridged on a conference call as they answer.
This integration adds a whole new layer of communication for AMG Alerts clients, enabling real-time two way dialog for key management personnel or responders when time, simplicity and communication are all critical.
"We have been receiving inquiries about adding an outbound conference calling capability to our service and are happy to be able to work with ZipBridge to quickly and easily deploy this new service to our customers. Thus far the response has been excellent and we are looking forward to using this new feature to further differentiate our service offering." - Dave Burr, COO of AMG Teleran, parent of AMG Alerts.
"We are proud to be working with AMG Alerts in helping them deploy a private labeled version of ZipBridge to their clients. ZipBridge was designed to facilitate simple and instant communications during an urgent incident and by integrating with AMG Alerts that simplicity is taken one step further by connecting to the contact information stored within the AMG Alerts application. We look forward to supporting AMG Alerts in offering a new layer of communication to their clients." - Leidy Smith, President of ZipBridge.
About ZipBridge
ZipBridge is an outbound conference calling platform which enables authorized individuals to launch a conference call for any group – either predefined or created on on-demand. ZipBridge provides another level of communication for the incident management team enabling quick and easy two-way dialog when both time and communication are critical. More information can be found at http://www.zipbridge.net
About AMG Alerts
AMG Alerts is a turn-key mass notification system used by companies, schools, government agencies, health care providers, and other organizations to provide timely messaging in the case of system failures, emergencies, and other important events. Setup is virtually instant and the system provides all the tools needed to set up and manage contact profiles. Messaging capabilities include any combination of Email, Text, Voice, Web, and RSS. More information can be found at http://www.amgalerts.com.