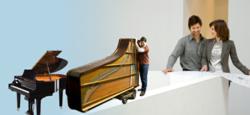 The most comprehensive directory of professional piano movers at http://pianomovers.org
(PRWEB) April 17, 2013
Moving pianos will never be the same again with the assistance of pianomovers.org. They assist people with moving their grand pianos at no risk at all. This online resource was set up to bring information and a collection of good relocation services to help customers be assured that their valuables are in safe hands. Most customers fear moving their pianos because they fear damaging their irreplaceable valuables. Thankfully, now, finding the right moving company is as easy as clicking one or two buttons.
Comparing rates before hiring a moving company
Pianomovers.org brings well-screened movers to help customers move their pianos. They bring professional movers companies that have moved pianos before. However, they will get customers several piano moving rates from different companies, so customers have choices. It is advisable for customers to allocate enough time to find a piano moving company in their area. This is more affordable as it saves on fuel costs, which would otherwise be transferred to the customer.
Prior piano moving experience
The most important thing that a customer should do is find a very experienced piano moving company. This helps ensure the safety of valuable items.
A company moving a piano needs ample insurance coverage, so that if the piano is damaged, they can have it repaired or even replaced. The company should also have the appropriate packing container and loading equipment, such as trolleys and ramps.
Piano storage providers
In addition, if someone chooses not to take their piano when making a move, the directory of movers have many companies that charge affordable rates for piano moving to storage. Pianos are very delicate and therefore they have to be packed right, protected on the inside and outside.
The cost of piano moving
This will largely depend on the size of the piano and although different piano moving companies will charge different prices, there are standard rates in the market. The bigger the piano is the more people it will require to handle it and therefore, a higher price. It is recommended that customers look for three or four quotes from different companies, compare them and the services offered, before choosing the best company.
About Pianomovers.org
Pianomovers.org is a piano moving directory designed to bring all the piano moving companies in 50 states to customers. By helping customers find professional movers in all states, this makes the piano moving burden lighter and assures the owners that their valuable asset is in safe hands.