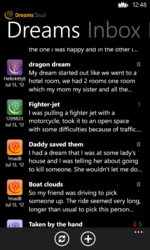 The DreamsCloud app for Windows Phone 8 makes it easy to explore dream meanings
Herndon, VA (PRWEB) April 16, 2013
Dreams Cloud, a subsidiary of Dreams Book Inc. (DBI), has launched the Windows Phone 8 version of its free app, DreamsCloud. The app, which joins existing versions for Android, iPhone and Blackberry, allows users to record and share dreams, and to receive feedback from professionals and other dreamers about possible dream meanings.
Using the DreamsCloud app, users can move seamlessly between browser and mobile devices, accessing and adding to their information whenever and wherever they desire. Dreams entered into any device become part of a user's secure Dreams Journal, allowing dreamers to record, track and revisit their dreams over the course of a lifetime.
Every minute of every day, someone around the world is waking up and remembering a dream, sharing it with others and wondering about the meaning of their dreams. The DreamsCloud app makes it easy. One of the most fun features of the app is the Dreams section, where users can read publicly posted dreams shared by other dreamers, and the professional feedback received to help with interpreting dreams themselves. Dreams Cloud safeguards the anonymity of all users and does not share individual user data.
"People tell us they find reading dreams pretty addictive," said Martha Kortiak Mert, Vice President of Marketing for Dreams Book. "And it makes you feel less alone or unusual when you see that others have had dreams like yours," she added.
The Dreams Cloud website provides users with additional resources to explore and understand dreams and dream meanings, including arts, books, people, videos and links to other websites serving the dream world. The website also features an educational blog series. The DreamsCloud app can be used independently or as part of Dreams Cloud's total solution.
While Dreams Cloud is a members-only service, Dreams Cloud membership and its apps on Windows Phone 8, iPhone, Blackberry and Android are free and available to everyone.
About Dreams Cloud
Dreams Cloud (http://www.dreamscloud.com), a subsidiary of Dreams Book Inc. (DBI), is a global resource which specializes in gathering, saving, and tabulating a statistical compilation of dreams. The website provides its members with tools to log their dreams, create various dream journals, save them privately or share them publicly or anonymously, and receive reflections on their dreams. The goal of Dreams Cloud is to better its members' lives and those of the public through its efforts.
About DBI
Dreams Book Inc. (DBI), a Herndon, VA, based company, is the creator and manager of various internet-based projects. DBI employs fractional management and in-house expertise and development as well as a multi-national outsourced team to create value for its stakeholders through synergetic and strategic project management. DBI specializes in projects that provide social benefits and have mass appeal.
Windows Phone 8, iPhone, Blackberry, and Android are registered trademarks of Microsoft, Apple, RIM, and Google respectively.