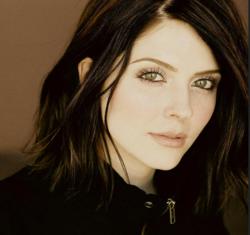 Los Angeles, CA (PRWEB) April 16, 2013
Jen Lilley, actress known for her role as Maxie Jones on ABC's General Hospital and the newest series regular to join the cast of Days of Our Lives, is launching a BYOU Signature Series clothing and apparel line in honor of Childhelp. Childhelp is one of the largest non-profit agencies dedicated to preventing and treating child abuse and domestic violence. $7.00 of every T-shirt sold will be donated to this worthy charity.
April is Child Abuse Prevention Month and on the 17th, Jen Lilley will debut her fashionable and socially conscious Signature Series designs at http://www.BeYourOwnYou.org. Her personally handcrafted designs will bring awareness to the issues of self-esteem in women and girls, while also raising money for the charity Childhelp.
Jen Lilley has partnered with Be Your Own You, a lifestyle apparel brand that builds self-confidence and self-esteem in women and girls through various programs including a magazine, apparel and coaching programs. Jen Lilley's Signature Series designs will be sold online from April 17-30, and $7.00 of every item sold will be donated to Childhelp. This program spreads awareness about issues of positive self-esteem and self-confidence in women and girls while raising money for non-profit organizations.
About Jen Lilley:
Born in Virginia, Jen started acting in college playing the lead in an indie film called, The Loss of Life. She is best known for her role in General Hospital and in The Artist, winner of five Academy Awards including Best Picture. A talented actress, singer, and comedian, Jen has performed in many improv casts including the Upright Citizens Brigade. She is also active in various charities and garnered the National Educators Award for her work in Guatemala.
About BYOU - Be Your Own You:
Be Your Own You is a lifestyle brand that empowers women and girls through positive messaging, apparel and accessories, educational programs and an editorial magazine. BYOU was formed in partnership with Children's Edutainment Network and Cymphonique Miller. Today, BYOU is building a brand that will touch the lives of girls and women worldwide. For more information, and to check out the online store visit, http://www.BeYourOwnYou.org
About Childhelp:
For 53 years, Childhelp has brought the light of hope and healing into the lives of countless children. CEO and Co-Founder Sara O'Meara and President and Co-Founder Yvonne Fedderson started Childhelp in 1959, establishing it as a leading national non-profit organization dedicated to helping victims of child abuse and neglect and at-risk children. Childhelp's approach focuses on advocacy, prevention, treatment and community outreach. The Childhelp National Child Abuse Hotline, 1-800-4-A-CHILD®, operates 24 hours a day, seven days a week, and receives calls from throughout the United States, Canada, the U.S. Virgin Islands, Puerto Rico and Guam. Childhelp's programs and services also include residential treatment services; children's advocacy centers; therapeutic foster care; group homes and child abuse prevention, education and training. Childhelp also created the Childhelp National Day of Hope®, held each April during National Child Abuse Prevention Month that mobilizes people across America to join the fight against child abuse. For more information about Childhelp, please call 480-922-8212 or visit http://www.childhelp.org.