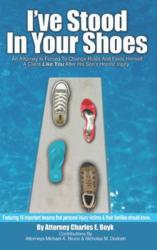 Toledo, Ohio (PRWEB) April 15, 2013
Attorney Boyk has announced the release of his new book, I've Stood in Your Shoes, which explains his personal experience with child accidents. The book is set up in a series of lessons that the Ohio attorney learned throughout the legal process. As Attorney Boyk found himself on the other side of the case, he had the opportunity to feel first-hand the confusion and frustration that his own clients have felt.
The book will also be highlighted in Attorney Boyk's blog, with all 16 lessons being released throughout the upcoming weeks. With one lesson published every Tuesday and Thursday starting April 16, 2013, readers will be able to follow along for the next eight weeks, and learn how they might relate to what Attorney Boyk experienced.
The first lesson of the book and the blog series addresses the surreal moment a parent experiences when their child is injured. They may not be able to actually believe the accident has happened to their child, or they may feel as though it is their fault. Attorney Boyk will explain the feelings he experienced when he received the news of his son's accident, and he will also speak about the trauma that the family feels during this type of situation.
The book is now available on the Charles E. Boyk Law Offices website where it can be ordered for free. Attorney Boyk stated that he feels that "this book will provide vital information for parents of children that have been injured, as well help them to navigate through the feelings that they may be experiencing."