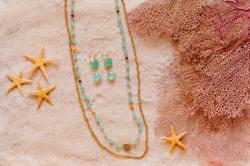 A special Spring event for customers.
Metairie, LA (PRWEB) April 16, 2013
The Garden Gates will host a special Spring event this weekend, Friday, April 19th through Sunday, April 21st, for customers. This three-day occasion will host the Jewelry Trunk Show and 10% off of select brands. Over the three-day weekend, enjoy 10% off of all products from Fermob, Campania International, Creative Playthings and Saber Grills. On Saturday, April 20th, there will also be a special promotion from Nouvelle Candle Co. in which customers can sample the full line of fragrances from the company and also receive giveaways.
The Jewelry Trunk Show will feature all new lines from designers such as Mary Louise Designs, Claudia, 3T Jewelry, Geraldina Jewelry, Anna Beck, Goodman Spalding. Each of these designer lines offer jewelry with precious and semi-precious stones, antique charms, pearls, precious metals and more.
This event for the whole family will help prepare for spring entertaining, Mother's Day and more. Enjoy the best in outdoor patio furniture from Fermob, cast stone garden fountains from Campania International, kids' swing sets from Creative Playthings, and infrared grills from Saber Grills. All products are on site at The Garden Gates to test and sample.
For more information, please visit http://www.thegardengates.com.
About The Garden Gates:
The Garden Gates was founded by Jacqueline Elizabeth Kendall-Harris and Chad Harris in 1999. Jacqueline plays an instrumental role in product development, interior design and in developing core principles in The Garden Gates lifestyle. Chad plans in important role in the creativity of the brand, marketing and technology of the business.