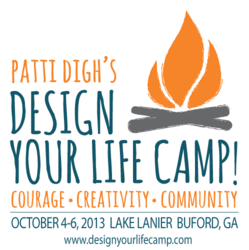 Design Your Life Camp is for those who want to live in joy, who want to make strong offers to the world, who want to live courageous, creative, connected lives.
Asheville, NC (PRWEB) April 16, 2013
Bestselling author, Patti Digh, long known for building community through her work, will bring together a diverse group of well-known speakers, artisans, performers, advocates, and experts for a weekend retreat October 4-6, 2013 to help participants reclaim courage, reignite creativity, and reconnect with community. Registration is open to the public, but space is limited.
Design Your Life Camp offers a highly interactive, community experience featuring hands-on art workshops, music, daily fitness with professional instructors, the opportunity for participants to share their personal passions with one another, and in true "camp" fashion, a talent show.
Among the confirmed session leaders are poet and advocate Andrea Gibson, award-winning poet, author and performer Shane Koyczan, bestselling authors Pam Slim, Jennifer Louden, Susan Piver, and Karen Walrond, guitarist, composer, and inspirational performer Billy McLaughlin, performance poet Glenis Redmond, and writer/publisher Ishita Gupta.
"I've always believed the open, honest energy of childhood sleepaway camp would offer just the right spirit for us so-called grown-ups to get back in touch with our own courage, creativity, and community," said Digh. "Design Your Life Camp is for those who want to live in joy, who want to make strong offers to the world, who want to live courageous, creative, connected lives. I am certain, and grateful, we don't need mosquitos and lumpy bunk beds to achieve that!"
Design Your Life Camp 2013 will be held October 4-6, 2013 at Lake Lanier Islands Resort, near Atlanta, Georgia. For more information, visit http://www.designyourlifecamp.com
ABOUT PATTI DIGH
Patti Digh is a best-selling author whose books include: Life is a Verb: 37 Days to Wake Up, Be Mindful and Live Intentionally, Creative is a Verb: If You're Alive,You're Creative, Four-Word Self-Help, and What I Wish For You. Her newest work, The Geography of Loss, will be released January 2014. She writes regularly at her award-winning blog http://www.37days.com