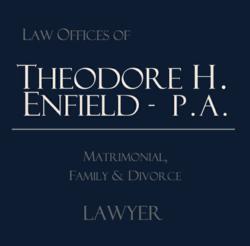 Miami, FL (PRWEB) April 16, 2013
Recent statistics from Centers of Disease Control and Prevention (CDC) show that more than 40% of children today are born to unmarried couples. While this percentage is lower for ages over 30 when having children or having a college degree, there is still a vast majority of people who are choosing to have their children before they get married or decide not to get married at all. These facts lead to more social problems and in most circumstances, these children will grow up without a father, says Theodore Enfield, a family law attorney.
Unforeseen issues and problems may arise for unwed fathers if the relationship does not work out in the manner that they had hoped. Florida paternity laws state that signing a birth certificate does not automatically give the father rights.
According to Fl. Stat. Sec. 742.031(2) it has been interpreted to mean that unless a father is adjudicated with specifically provided parental rights, the mother is deemed to have sole parental responsibility and all the time-sharing of the child. This means that if the mother and the father of a child choose to part ways romantically, the mother would not be legally in the wrong for denying contact or making unilateral decisions regarding the welfare of a child, including potentially moving from the jurisdiction of the courts in Florida.
With more than 30 years of experience helping Florida families deal with family law issues such as paternity, Mr. Enfield announces advice for unwed fathers - how to prepare on taking their role as 'a father who is not married to his child's mother.'
Fathers need to establish paternity - when a child is born outside of marriage, there is no legal presumption of paternity. Without establishing paternity, an unwed father has no legal standing as it relates to visitation, shared custody or the ability to make decisions about the welfare of the child. The simplest way to establish paternity is to sign the birth certificate and obtain a copy of the birth certificate, make sure that both parents sign the affidavit of paternity and sign and file with the putative father registry.
Gaining custody rights - Once an unwed father establishes paternity, he needs to work to determine his custody status. If at any time the parents separate, or if they are not intending to raise the child together, the father will need to petition a court to establish custody rights. Before a court determines legal custody for the child, the parents should get together and establish a parenting plan that defines roles and responsibilities. While this can be done in a friendly way between the parents, the court will have to approve the plan they have created, says Mr. Enfield, a child custody Miami lawyer.
Paying child support – regardless of the father's custody status, he has a financial responsibility for a child. The only way to avoid child support is for a father to have his paternity rights terminated which forever severs him from his child. If a father and mother are raising the child together, financial support happens informally. But if they separate, child support will become a formal legal obligation. Once child support is set by the courts, it becomes a primary financial obligation, which can be enforced by government agencies and whether or not the father has cooperation from the mother on things like visitation, child support obligations remain.
Most important is to be involved as much as possible and work with the partner while focusing on raising the child, who will get the best chance of becoming a well-adjusted adult if the parents co-parent him/her with the least amount of animosity towards one another.
About - Miami Dade county attorney Theodore Enfield, who is known for providing quality and affordable legal services across South Florida, directs his efforts towards handling all his cases with great determination and complete diligence. So far, he has successfully handled cases of all family, divorce and paternity laws, which have made him the first choice of his clients.
Theodore Enfield's practices include Florida annulment laws, annulment, dissolution of marriage, equal distribution of marital assets and liabilities, child support, parental responsibility and time-sharing.