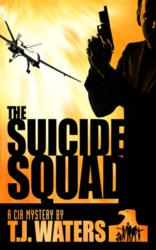 "Think Robert Ludlum and Frederick Forsythe on steroids."

Jon Land; Bestselling author of Pandora's Temple
St. Petersburg, Florida (PRWEB) April 17, 2013
Author TJ Waters announced the release of the first three titles in a new series of digital-only spy-mystery novellas. THE SUICIDE SQUAD follows the exploits of five CIA case officers who are forced into the career killing counter-intelligence division after a rogue rescue operation.
The second and third books, GROUND EFFECTS and DOUBLE BLIND, further expound on the five characters as they set about catching spies. He describes the series as 'Ocean's 11 meets Ronin'; Waters was an extra in George Clooney's 2001 remake of the Frank Sinatra classic.
Previously published by Penguin/Putnam and John Wiley, Waters joins a growing list of so-called 'hybrid authors' - traditionally published writers dabbling in self-publishing by commissioning outside specialists to handle editing, formatting, and cover art.
"Novellas are poised for a digital renaissance," Waters said. "The Old Man and The Sea, Jekyll and Hyde, and A River Runs Through It were storytelling masterpieces published as novellas. I think digital will make this form more popular than ever. Steven King, Karin Slaughter, and Michael Connelly have been experimenting with digital-only novellas since 2011."
Waters previously self-published an ebook companion for one of his traditionally published print books. His Kindle-exclusive PRIOR TO THE SNAP, detailing the intelligence gathering methods of the NFL, was so popular among deployed troops he was invited on a USO tour in 2010.
About The Author
TJ Waters was an undercover CIA officer, a Special Operations Command co-team leader, and a senior Middle East counterintelligence analyst. His nonfiction book CLASS 11 is # 2 on the CIA's list of recommended reading for new employees. His debut novel SECRET SIGNS was named an International Book Awards winner in 2011. His articles, events, and book tour information are available at tjwaters.com and on his Facebook Page. Waters will sign copies of the ebook at in store events and through streaming video appearances online through Autography.
About The Suicide Squad Series
Each title is a fully complete story of approximately 42,000 words. The series is debuting on the Amazon Kindle™, but will soon also be available in retailers for the Nook™, iPad™, Kobo and Sony eReaders, as well as most tablets and smartphones. After the series debut the books do not need to be read in a particular order. Links to storyboards featuring locations and elements from each title can be found on Waters' Pinterest Page.