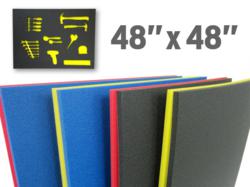 "Tools kept going missing until we started using the foam kits. Now we are able to keep track of our tools and save money at the same time."
Lake Oswego, OR (PRWEB) April 17, 2013
Creating organization in the workplace is essential when it comes to implementing a lean facility. Any business can become successful and competitive when their business is organized and rid of unwanted waste that can drag a business under. Creative Safety Supply is now offering Custom Foam Tool Kits that can be designed to fit into any work space. These foam tool kits are available in several different sizes to meet everyone's needs.
Foam organizers will simplify the task of getting projects completed quickly and efficiently. It is easy to create visual differentiation for tools and small things around the work area by using two differently colored sheets of colored-cell foam. By cutting tool shapes into the top, primary layer (1/2" thick), then back with high contrast colored foam backing (14" thick) will make it much easier to identify missing tools. The foam tool kit creates a visual organization method that will make any workspace a more efficient place.
Foam tool kits are extremely durable but at the same time easy to cut. The closed cell foams won't absorb contaminants making it ideal in any type of production, manufacturing, maintenance or automotive repair facility. Foam tool kits are available in black/yellow, black/red, blue/yellow, and blue/red colors. The foam kits can be stored in most any size of drawer or on top of a work desk allowing for easy and quick access to tools. Tools will no longer go missing when workers know exactly where to return them.
A maintenance worker commented, "Tools kept going missing until we started using the foam kits. Now we are able to keep track of our tools and save money at the same time."
For more information about Custom Foam Tool Kits, please visit http://www.creativesafetysupply.com/Foam-Organizers/ or call toll-free (866)777-1360 to speak with a professional representative.