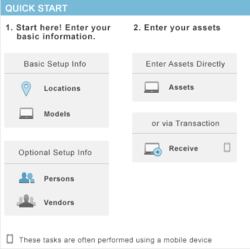 ... Listening to our customers allows us to make our inventory management and asset tracking software better for all users and reinforces our software mission statement of constant improvement
San Jose, CA (PRWEB) April 16, 2013
ASAP Systems introduces the all-new Quick Start guide for BarCloud online inventory management and asset tracking. It's an easy-to-use startup tool that brings together the necessary resources for building out a customer's tracking ecosystem while ensuring rapid implementation. The quick start page provides an effective way for a BarCloud customer to execute their tracking system at the critical first phase of implementation.
Users have the ability to quickly gain experience without having to laboriously flip through pages of a user manual or access an online help guide because the necessary steps are shown right onscreen. In addition, there is the option of turning off the BarCloud Quick Start guide, giving the ability to customize whether assistance is needed or not.
"We implemented the Quick Start guide for BarCloud based on high customer demand, the goal being to save time learning and shorten training time. Listening to our customers allows us to make our inventory management and asset tracking software better for all users and reinforces our software mission statement of constant improvement," said Greg Wachowiak, Director at ASAP Systems.
With the new addition of the Quick Start guide, BarCloud continues to provide businesses the proficiency to manage inventory and track assets quickly and easily in the cloud using barcodes. With the BarCloud mobile app on smartphones and tablets, businesses know 24/7 how and where assets and inventory are received, stored, used and disposed of in the warehouse and in the field.
ASAP Systems' BarCloud also allows customers to choose specific features that fulfill their business practices such as asset check out-in and the ability to track stock inventory lot numbers and date codes. With BarCloud, companies are allowed to rename data fields, customize reports, set up role based user access, and gain business intelligence with built-in analytic charts.
About ASAP Systems
We are ASAP Systems, a market leader in inventory management and asset tracking systems that uses barcode and RFID technology with Motorola mobile barcode scanners, smartphones and tablets. We help improve profitability by eliminating manual data entry, paper files and forms and by automating record keeping. For more information, please visit http://www.barcloud.net.