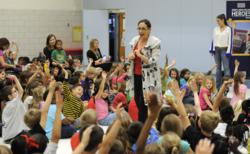 The Little CHAMPS tour encourages children to embrace their military roots and celebrate the role they play in America's history.
Arlington, VA (PRWEB) April 15, 2013
Children's author and educator Debbie Fink kicks off the USO Little CHAMPS tour to the Pacific Region today. Fink will deliver 25 presentations at 13 schools reaching 6,000 military children living in mainland Japan and Okinawa. School performances will incorporate music, affirmations, and sign language and are designed to help military children build resiliency.
"The Little CHAMPS tour encourages children to embrace their military roots and celebrate the role they play in America's history," said Fink. "At the same time, we want to provide them with the coping tools necessary to deal with the challenges unique to growing up a military child. We focus on building resiliency by building character."
With more than 30 U.S. military installations, the Pacific Region is home to more than 100,000 troops and military families. The presentations will target children in grades K-6. Each child will leave with a copy of Fink's book, "The Little C.H.A.M.P.S.: Child Heroes Attached to Military Personnel". The schools will also retain a curriculum supplement with classroom activities, resources and sheet music for future use.
Fink previously toured with the USO in 2011. To bring The Little CHAMPS tour to the Pacific, the USO worked with Department of Defense Education Activity and the USO staff and volunteers in region. The Little CHAMPS tour is one of many programs the USO offers to support military families in the Pacific. With 17 USO locations in Okinawa, Mainland Japan, Korea, Hawaii and Guam, the USO has the scope, scale, presence and reach to support military families. These activities include affordable family classes, after school activities, Movie in the Park nights and holiday celebration events.
"The military children we serve have endured multiple deployments and have spent a significant amount of time away from their extended support network in the states," said Carolyn Harris, Regional Vice President for USO Pacific. "We are excited to bring the Little CHAMPS tour and Debbie Fink to mainland Japan and Okinawa to inspire these children, help them build resiliency, and demonstrate to our military families that the USO is always by their side."
Fink authored the book with her daughter Jennifer to support military children and raise awareness among civilian children and educators about the lives of their military-connected peers. "The Little CHAMPS" follows the children of five service members, each representing a branch of the military, as they cope with deployments, saying goodbye, and when a parent returns home wounded. The book avoids the commonly referenced term "military brats" instead referring to the children as "CHAMPS: Child Heroes Attached to Military Personnel". The five "CHAMPS" endure issues common to life as a military child from deployment to when a parent returns home wounded. The book concludes with lyrics for "The Little CHAMPS" song reminding children that "goodbyes are not forever, goodbyes are not the end. They simply mean we'll miss you, until we meet again!"
The Little CHAMPS tour kicks off April 16th and runs through the end of April. For more information about "The Little Champs", visit http://www.harmonyhearth.com or http://www.operationchamps.org. For more information about the USO visit http://www.uso.org.
About the USO
The USO (United Service Organizations) lifts the spirits of America's troops and their families millions of times each year at hundreds of places worldwide. We provide a touch of home through centers at airports and military bases in the U.S. and abroad, top quality entertainment and innovative programs and services. We also provide critical support to those who need us most, including forward-deployed troops, military families, wounded warriors and their families and the families of the fallen.
The USO is a private, nonprofit organization, not a government agency. All of our programs and services are made possible by the American people, support of our corporate partners and the dedication of our volunteers and staff. In addition to individual donors and corporate sponsors, the USO is supported by President's Circle Partners: American Airlines, AT&T, Clear Channel, The Coca-Cola Company, jcpenney, Kangaroo Express, Kroger, Lowe's, Northrop Grumman Corporation, Procter & Gamble, and TriWest Healthcare Alliance and Worldwide Strategic Partners: BAE Systems, The Boeing Company, Lockheed Martin, Microsoft Corporation and TKS Telepost Kabel-Service Kaiserslautern GmbH & Co. KG. We are also supported through the United Way and Combined Federal Campaign (CFC-11381). To join us in this patriotic mission, and to learn more about the USO, please visit uso.org.