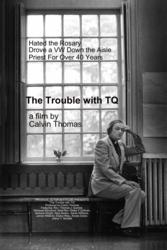 Norfolk, VA (PRWEB) April 17, 2013
The late Rev. Thomas J. Quinlan, known as "TQ," described Granby Street as Norfolk's dividing line, "I spent five years on the white side and eleven years on the black side," referencing his tenure at Sacred Heart and then St. Mary's Catholic Church. TQ passed away on 24 April 2012 and a year later, a Norfolk native will screen a work in progress documentary about the controversial priest at the Basilica of St. Mary.
"The Trouble with TQ," produced by Norfolk native Calvin Thomas, looks at Quinlan's 47 years as a priest determined to make the church more relevant to Catholics and Catholics more relevant to the world.
A seminarian in the years leading to the Second Vatican Council, TQ was inspired by the Principle of Adaptation, which encouraged interpreting the Gospel in light of modern culture. Quinlan's adapted liturgies ranged from comic book heroes (Superman), to pop culture (The Wiz) and even African American history (Nat Turner).
TQ's outspokenness invited media scrutiny, and the theatrical nature of his liturgies brought its share of critics. Often the publicity overshadowed the traditional theology behind his message, as well as the profound effect on congregations. The film highlights what Time magazine described as "… the zaniest liturgical show in town," and contrasts that with people transformed in how they express worship, as well as parishes transformed in how they relate to the community.
Producer/Director Calvin Thomas is a Norfolk native and a graduate from Booker T. Washington High School. He met TQ as a teenager when he was a parishioner at what is now the Basilica of St. Mary of the Immaculate Conception" He founded Prodigal Altar Boy Films, a media company dedicated to telling stories close to the heart. He currently resides in Baltimore's Federal Hill neighborhood.
The screening takes place 6:30 PM on 24 April at the Basilica of St. Mary, 232 Holt Street, Norfolk VA 23504.
Admission is free, but tickets are required for entrance. For ticket info, visit http://thetroublewithtq.com/screenings/