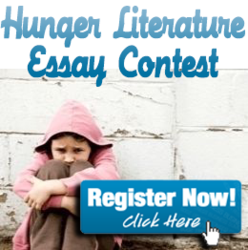 "The Opp-Guide in conjunction with Generation On have made a commitment to shed light on the issue of childhood hunger at every dinner table conversation throughout America" Lance Oppenheim, Pres. Opp-Guide
Fort Lauderdale, FL (PRWEB) April 17, 2013
The Opp-Guide for Community Service, Inc., a 501 c (3) non-profit organization that encourages youth involvement in community service announced its sponsorship in a literary writing contest for kids and teenagers between the ages of 9 – 16. Entrants will write about, "What childhood hunger means in America," from their perspective. The winner will receive $250. Deadline is May 10, 2013.
Participation is free, and the winner will have an opportunity to provide a video interview as part of a short documentary on hunger. The winner will be notified by May 17, 2013 via email.
The contest is part of an initiative launched by Generation On, a national youth organization of the Points of Light Foundation that brings social awareness to various community issues including childhood hunger in America.
Tonight, 16.7 million children in America will go hungry as childhood hunger in the United States is growing at epic proportions and statistics reveal that approximately one in five Americans go hungry. This leaves children within the United States residing in "food insecure households," meaning that they do not have access to enough nutritious foods that provide the nutrients they need for energy and growth, according to the Center for Disease and control.
The Opp-Guide in conjunction with Generation On have made a commitment to shed light on the issue of childhood hunger at every dinner table conversation throughout America and we will do our part to combat this tremendous crisis," said Lance Oppenheim, Pres., The Opp-Guide.
Entrants are required to submit their essay of 500 words or less to The Opp-Guide Hunger Contest by registering easily, online.
About Lance Oppenheim:
Oppenheim is a junior at Pine Crest Schools in Fort Lauderdale, Fl., where he started the Pine Crest Film Club. He is the Vice President of Student Government, the developer of the Opp-Guide App and an accomplished award winning film maker.
About The Opp-Guide:
Founded in South Florida in 2004, the Opp-Guide helps youth locate service opportunities. In 2011, the Opp-Guide Mobile App was developed and is available for free at the iTunes store. The app allows anyone to search a nationwide directory of nearly 300,000 nearby community service opportunities. In addition, The Opp-Guide sponsors young filmmakers making films about important social issues.
Tags: Childhood hunger in America, teenagers, after school programs, youth organizations, national youth organizations, community service, public schools, guidance counselors, youth advisors, hunger crisis, food banks, shed light, food insecure