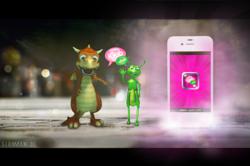 Everything else is so yesterday
Hamburg, Germany (PRWEB) April 23, 2013
GoGekko, a new woman owned app development company, announced the launch of the iGab 3D messenger app, in iTunes several weeks ago and has started the marketing attack..."Meet the Gabbers".
As previously mentioned, there is a huge "sea of apps" to chose from. "A product only has a few seconds to catch someone's eye, it was an easy conclusion that utilising a photo artist was a key part of the marketing strategy," stated Sabine Hutchison-Leidel iGab co-founder.
Location does not matter when choosing providers for certain services; web design, logo development or story writing. After looking internationally, GoGekko decided to go with a local partner for photo images. "We wanted a partner who mirrored our desire for showing the emotional aspects of our App, we found this connection with Anita Graf. (Stramani Photography)" stated Claudia Neumann iGab co-founder.
Anita Graf is a prize-winning artist, who also shares GoGekko's belief in supporting local businesses, combined with working internationally.
"My work started with portraits and developed into composing. I am inspired from artists like Salvador Dali and H.R. Giger. I hope that my work awakens emotions in individuals," stated Anita Graf
"Having a local partner, did simplify the process, we got to know each other over a coffee, where Anita had the opportunity to get to know us and our product. We were able to quickly arrange meetings to discuss design concepts and arrange photos shoots," stated Kathryn Hagedorn iGab co-founder.
The iGab Crew suggest the following when choosing a photo artist: find a professional, find someone who underscores the company goals, find someone who brings modern creative concepts, that match the product and target group while adhering to the companies timelines.
About GoGekko GbR:
GoGekko GbR was established in 2012 in Hamburg. iGab is GoGekko's first iOS app, the app was created because GoGekko wanted a new fun way to send messages, without having to type messages. Emotion and using user own voices were both critical aspects to incorporate into the app. When sending text messages one is only able to show emotion by using smileys or other 2D images and often messages are sent with computer voices…GoGekko wanted more. http://www.i-gab.com