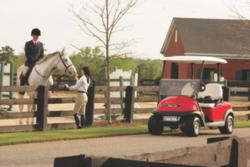 Vehicles used on horse farms and stables have to resist corrosion, take abuse, multi-task and deliver years of trouble-free service.
Augusta, GA (PRWEB) April 17, 2013
Harness the Right Golf, Utility or Neighborhood Electric Vehicle
Insights From an Expert
Finding the right vehicle can be a bit tricky for equestrians. "Vehicles used on horse farms and stables have to resist corrosion, take abuse, multi-task and deliver years of trouble-free service," says Mary A. Sicard, consumer marketing manager at Club Car.
But with a little horse sense, horse lovers can maximize the return on their investment and avoid buyer's remorse. Here's how.
First Things First
"Think about how you plan to use the vehicle. Do you need it for light hauling and off-road transportation, heavier work around the farm, or alternative transportation? Tying this down up front is the key to zeroing in on the right vehicle and accessories," Sicard says.
Also consider who will drive your vehicle. Seasonal or temporary employees can be hard on vehicles, making it even more important to buy a model that's engineered to last.
Gas…or Green?
Either gasoline or electric vehicles can be used for transportation, light hauling and chores. And both are fairly easy to maintain.
"People often think they need gas for a good range, but today's top electric golf cars and utility vehicles get 20-30 miles on a charge, depending on the terrain and other factors," Sicard says. "Electric vehicles are quiet and fumeless, so they don't frighten horses. They are also environmentally friendly and less expensive to operate than gasoline-powered vehicles."
If you're thinking of electric, Sicard suggests you look for a strong battery pack and a vehicle with an adjustable regenerative braking system that allows the vehicle to optimize energy reclaimed when stopping.
For a longer range, go with gas. "Gas may also be a better option for those who plan to take their vehicles to shows, as it can be difficult to recharge batteries on the road," Sicard says. "But select a vehicle with a name-brand engine, a big tank for longer range and excellent hill-climbing performance."
Golf Cars for Yard Duties and Shows
If everyday chores such as grooming, feeding, and poo picking, as well as off-road transportation, are on your agenda, consider a golf car. They're easy to transport and require little maintenance.
"Look for a car that's built on a rustproof aluminum frame instead of on a steel frame," Sicard says. "Steel frames don't withstand the chemicals used on farms."
You'll also want a tight turning radius, long warranty and strong canopy that funnels water straight to the ground.
Golf cars are particularly useful for equestrians when customized with dump beds, extra traction tires, front brush guards, rear towing hitches and head and tail lights.
More Rugged Utility Vehicles
For mowing, heavy lifting or chores such as fixing fence lines, consider a utility vehicle. They come in light-, medium- and heavy-duty models.
Available in electric, gas or diesel, utility vehicles can be decked out with bedrails, dump carts, plow mounts, trail mowers, trail cutters, log splitters, tool boxes, Ag sprayers, push brooms, pallet forks and other options that boost usage and save time and money.
"Club Car's smaller model XRTs are popular with equestrians because they are versatile, can be moved in a pickup truck or horse trailer, and accommodate an optional rear-facing, two-passenger back seat that folds down into a cargo bed," Sicard says.
Looking for a 4x4?
If so, Sicard advises some research. "Some 4x4s are difficult to operate, but Club Car's feature the industry's only automatic and continuous all-wheel drive. There are no levers to pull or buttons to push," she says.
Further, the XRT1550 is available with IntelliTach, the industry's only fully hydraulic, quick-changing tool system. It lets you move quickly from chore to chore, making it great for stable management.
Expand Your Boundaries in an NEV
Looking for alternative transportation? Consider a zero-emissions neighborhood electric vehicle (NEVs).
Designed for neighborhood transportation, NEVs can reach maximum speeds of 25 mph and accommodate four passengers. "They're legal in most states on roads with speed limits of 35 mph or less, making them great for shopping, running errands and transporting visitors in style," Sicard says.
Unlike golf cars, NEVs have to meet federal safety guidelines. They come equipped with auto glass; safety belts; turn, brake and headlights; horns and other safety equipment.
NEVs are more expensive than golf cars, but they are much cheaper to purchase, operate and insure than full-size electric cars. And they cost about half as much to operate as gas-powered vehicles.
To test drive a Club Car Precedent golf car, XRT utility vehicle or Villager NEV, visit your local Authorized Club Car Dealer. To find a dealer near you, visit http://www.clubcar.com and select "Dealer Locator."
Photos
The XRT1550 with IntelliTach features the industry's only fully hydraulic, quick-changing tool system. It has an optional plow, bucket and forklift to help you get the most out of your workday.
High-res photo:
Horse farms
The Villager 2+2 LSV or the Villager 2 with option cargo bed is legal to drive on roads with speed limits up to 35 mph in most states. Both vehicles have to meet federal safety guidelines and come standard with headlights, tail lights and turn signals; 3-point safety belts (front); hip restraints; rear 2-point safety belts; and safety glass and mirrors to keep you safe.
High-res photo:
Neighborhood Electric Vehicle (NeV)
About Club Car
Club Car, one of the most respected names in the golf industry, is the world's largest manufacturer of small-wheel, zero-emissions electric vehicles. The company's Precedent golf cars and Carryall Turf utility vehicles are integral to successful operations at thousands of courses around the world. The company also offers a complete line of new and used golf cars, XRT utility vehicles and street-legal, low-speed vehicles (LSVs) for personal use, all backed by Club Car's 50+ year legacy of superior design, manufacture and service. Club Car is part of the Industrial Technology Sector of Ingersoll Rand, and is based in Augusta, Ga. Visit http://www.clubcar.com.
About Ingersoll-Rand
Ingersoll Rand (NYSE:IR) is a world leader in creating and sustaining safe, comfortable and efficient environments in commercial, residential and industrial markets. Our people and our family of brands—including Club Car®, Hussmann®, Ingersoll Rand®, Schlage®, Thermo King® and Trane® —work together to enhance the quality and comfort of air in homes and buildings, transport and protect food and perishables, secure homes and commercial properties, and increase industrial productivity and efficiency. We are a $14 billion global business committed to sustainable business practices within our company and for our customers. For more information, visit http://www.ingersollrand.com.
Contact:
Betty Sosnin
706-736-7353
bettysosnin(at)knology(dot)net
###