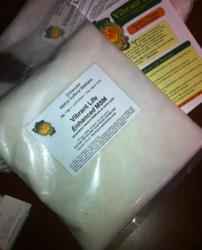 The highly popular MSM product has been improved by adding a popular amino acid to the ingredients
Lake View Terrace, CA (PRWEB) April 16, 2013
Vibrant Life and Clifford Woods, is pleased to announce an Enhanced MSM! product that will improve health and get rid of unwanted inflammation. The new MSM product combines the top-selling product previously manufactured with an incredible amino acid which is equally effective so that the Enhanced MSM is even more potent.
According to Clifford Woods, describing the product in a recent interview, "New Enhanced MSM shows record sales in the month since it was launched - almost surpassing sales on long standing product!"
He continues, "Here are some of the many benefits of taking this particular product. It calms the mind and the stomach and assists in removing toxic substances including lactic acid. It can also increase the utilization and the availability of hormones linked to growth functions, helpful in healing or restructuring damaged muscles. It increases strength and the development of muscle fiber, boosts endurance and energy levels."
The enhanced MSM operates at a cellular level, thus making it effective against many common conditions. The product handles or normalizes such conditions as spine and neck pain, joint pain, arthritis pain, kidney stones, hemorrhoids, skin disorders, hair loss, inflammation, IBS, acid-reflux, allergies and asthma.
The use of the amino acid targets cell volumizing. Because the original product makes cells breathable and permeable, the benefits can be delivered directly to the necessary cellular level quickly and effectively. An additional benefit of the amino acid is its sweet taste. This partially offsets the bitterness found in MSM.
Some of the conditions which are addressed by the product include muscular dystrophy, stomach disorders, and insomnia. It has also been shown to be effective against bipolar disorder, hyperactivity and hypoglycemia.
Learn more about the healthful benefits of Enhanced MSM by visiting the web pages at http://www.oralchelation.com/biosurf.html today. Members of the press and others who have further questions about the content of this press release are encouraged to contact Clifford Woods at the location offered below.