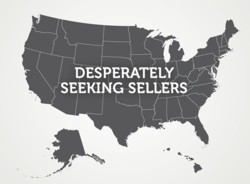 Low inventory is causing the housing market to stutter. Buyers are out there, but sellers are hiding.
Pleasanton, CA (PRWEB) April 16, 2013
SmartZip Analytics, Inc., the national leader in predictive marketing solutions for real estate and related industries, has experienced rapid growth as record low housing inventory levels intensify demand for its home seller targeting solution. During the first quarter of 2013, SmartZip's SmartTargeting solution for real estate professionals achieved a 300% revenue increase over the same quarter one year ago. SmartZip's national platform of real estate big data and patent-pending predictive analytics helps real estate agents identify and target homeowners that are most likely to sell in the near future.
With record low housing inventories, finding homeowners that are in a position to sell (and may not even know it yet) has become critical to the success of real estate agents, not to mention the housing market as a whole. Many homeowners aren't aware of the rapid shift in the market, and others are still leery about what is ahead. "Low inventory is causing the housing market to stutter," says Avi Gupta, President and CEO of SmartZip. "Buyers are out there, but sellers are hiding. We help real estate agents identify the most likely sellers in their local communities."
SmartTargeting gives real estate agents a unique advantage in their local markets. Once an agent selects their desired territory, SmartZip's big data and predictive engines crunch thousands of historical and current data points across each home and homeowner in the territory to pinpoint the top 20% seller prospects. On average, SmartZip-identified prospects have more than twice the likelihood of selling their home than normal. "I was shocked at how quickly I got results," says Janine Stevens of Windermere Real Estate, a top producing real estate agent in Palm Springs, CA. "I have been marketing to my territory for a long time, and I have never had a response like this. These targets are really motivated." Shortly after launching SmartTargeting, Stevens found herself in three listing appointments.
Most real estate marketing platforms are focused on generating buyer prospects, but in a market where sellers are a scarce quantity, SmartZip's solution is very timely in its ability to pinpoint prospective sellers. "With supply falling way behind growing demand, I knew I needed more listings to keep my business growing strong," says Dan Keller, a leading real estate agent with Keller Williams in southern California. "This is the only system I've seen that can show me with confidence where to find possible sellers in my area with remarkable accuracy." Keller, with his partner Kris Forsyth, closed seven listings in his first year of SmartTargeting, and more than doubled overall transactions year over year.
For a real estate agent, doubling their odds of getting a listing can translate to a huge competitive edge and thousands of commission dollars. By targeting SmartZip-identified home seller prospects, SmartZip's current client base has early visibility into nearly $30 billion in projected total annual home sales volume, which translates to about $1 billion in potential commissions. And while this number is large, it represents only 3% of the total national home sales, placing SmartZip in an enviable position to continue its growth trajectory.
About SmartZip Analytics, Inc.
SmartZip Analytics is a national leader in predictive marketing solutions for real estate and related industries. Using patent-pending home intelligence, predictive analytics, and integrated online/offline media campaigns, SmartZip's SmartTargeting offers an integrated solution that can identify top prospects accurately and help reach them through precisely targeted digital and traditional marketing channels. SmartTargeting for real estate is the industry's only targeting solution that helps agents grow their listings business by identifying and marketing to the most likely home sellers in their local market.
SmartZip is a privately held corporation headquartered in Pleasanton, CA, and is backed by Intel Capital, Claremont Creek Ventures and Javelin Venture Partners. To learn more, visit http://www.smartzip.com.