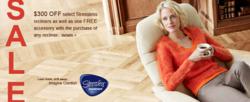 Seattle, WA (PRWEB) April 17, 2013
Starting Wednesday, the 17th of April, Savvy Leather Sofas' second quarter promotion will begin on all Stressless Recliners by Ekornes. The promotion offers a free accessory—either an Elevator Ring Set or Swing Table—with the purchase of any Stressless Recliner. Also, take $300 off the purchase price of any Sunrise model upholstered in Paloma leather.
The Elevator Ring set includes a 2" riser for both the recliner and the ottoman you purchase. The extra height is perfect for any tall loungers looking for a comfortable and supportive seat.
The Stressless Swing Table brings added features to the recliners. Perfect for a cup of coffee, a novel or a tablet, the versatile Swing Table fits on almost any Stressless model.
The Sunrise Recliner combines a unique style with lumbar support and the renown comfort of the Stressless brand. With Small, Medium, and Large sizes available, there is a Sunrise Recliner for all body types. Between April 17th and June 17th, take $300 off the price of any Sunrise with the selection of any 100% top-grain Paloma leather.
Stressless Recliners, first introduced in 1971, continue to set the standard of comfort and high-end recliners. With over 30 models and 50 leathers available, finding a recliner for all one's needs is easier than ever.
Savvy Leather Sofas, established in 1991, is a top retailer of leather furniture, with an e-commerce site that provides full customization on an array of product types and furniture brands. Every Stressless Recliner is available from Savvy Leather Sofas—in all the upholsteries available from Ekornes.