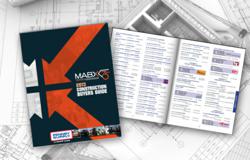 For years the MABX Buyers Guide has been a trusted professional resource for many construction project owners...
Harrisburg, Pa. (PRWEB) April 18, 2013
Mid Atlantic BX (MABX), a trade association serving the construction industry, announces the release of the 2013 MABX Construction Buyers Guide. The Buyers Guide is a directory containing MABX member companies broken down alphabetically, by industry trade, and by product brand names.
The online version of the publication is available at midatlanticbx.com. Printed copies of the publication will be available next week.
MABX distributes the printed version of the Buyers Guide to more than 5,000 regional construction project owners, design firms, general contractors, and other related companies each year. These companies utilize the directory as a resource for locating contractors, subcontractors, suppliers, manufacturers and other service providers. The online version is available on the MABX website, and is optimized for mobile viewing. Additionally, the mobile edition contains hyperlinks for a more interactive experience.
"For years the MABX Buyers Guide has been a trusted professional resource for many construction project owners, architects, engineers, and other construction-related businesses," Chad C. Harvey, MABX executive director, said. "Offering both online and printed versions allows us to reach more decision makers throughout Pennsylvania, Delaware, Maryland, and New Jersey."
All MABX member companies are listed alphabetically in the directory, and they have the option to purchase listings by trade or brand name. The Buyers Guide trade listings are based on the Construction Specification Institute's MasterFormat codes. These are the standard codes used in construction project specifications. The brand name listings are available to any company that would like to promote a certain product that they provide, sell, or install.
To view the 2013 MABX Construction Buyers Guide, visit midatlanticbx.com. The printed edition will arrive by the end of April.
Celebrating its 75th anniversary, Mid Atlantic BX is a trade association dedicated to connecting the construction industry. With its products and service offerings, MABX supports the business development efforts of its members and promotes the growth of the construction industry. MABX provides real-time, online access to thousands of regional new construction projects annually, along with project blueprints, specs, addenda, bid lists and other pertinent bidding documents.
From online, industry-specific services to the Construction Buyers Guide, Construx magazine, industry-specific training seminars and networking events, Mid Atlantic BX connects the construction industry from project concept through completion.
For more information about the Mid Atlantic BX, please contact Nate Pigott at (866) 499-2665 or nate(at)midatlanticbx(dot)com. Also, visit our website at http://www.midatlanticbx.com.