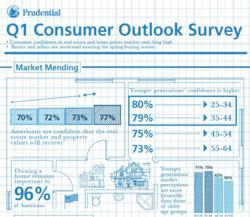 Consumers are aware that the market is moving; and with growing optimism, more are weighing their homeownership options.
Washington, DC (PRWEB) April 16, 2013
Prudential Real Estate, an HSF Affiliates LLC company, today released results of its first quarter Consumer Outlook Survey showing that American sentiment toward real estate is growing increasingly favorable. A full 77% of consumers feel that the real estate market and property values will recover, representing a four-point improvement from year-end results and seven-point jump over the same period a year ago.
According to the national survey, home ownership remains important to 96% of Americans, especially among women and Generations X and Y. Prospective buyers also said they are motivated by historically low interest rates and attractive home prices in many markets. In fact, 87% of respondents said Americans should buy homes while mortgage rates and prices are low.
"Consumers are aware that the market is moving; and with growing optimism, more are weighing their homeownership options," said Earl Lee, chief executive officer of HSF Affiliates LLC and president of Prudential Real Estate.
Highlights of those surveyed include:

Confidence is exceptionally high among Millennials (80%) and Generation X (79%), and in recovering residential real estate markets like the South (81%) and West (79%).
Favorability of the U.S. real estate market also has increased to 65%; its highest level in a year.
However, Americans are cautious and 42% of those surveyed believe the housing recovery will be slow.
Ultimately, owning a home is still important to 96% of Americans, and exceptionally important to Millienials (97%), Generation X (98%), and women (78%).
"Owning a home is still a major part of the American Dream and we believe more consumers are ready to enter the marketplace," said Kevin Wiles, president of Prudential PenFed Realty.
For those who have been watching market fluctuations in recent years, 74% of respondents say that interest rates are historically low and 87% say the time to buy is now while mortgage rates and average home prices are attractive.
Prudential Real Estate Outlook Survey Methodology
Interviews with 2,500 Americans who are "in the market" to buy or sell a home were conducted online by Edelman Berland in February 2013. Respondents are aged 25-64 with a household income of at least $50,000, and either recently bought/sold a home or are considering buying/selling a home. The margin of error is ± 2.0% for all respondents.
About Prudential Real Estate and HSF Affiliates LLC
Prudential Real Estate is a part of the HSF Affiliates LLC real estate brokerage family, which includes Real Living Real Estate and the new Berkshire Hathaway HomeServices brand available later in 2013. Prudential Real Estate franchisees are independently owned and operated.
HSF Affiliates LLC, based in Irvine, Calif., is a joint venture of HomeServices of America and Brookfield Asset Management.
Prudential, the Prudential logo and the Rock symbol are service marks of Prudential Financial, Inc. and its related entities and are used under license with no other affiliation with Prudential.
About Prudential PenFed Realty
Prudential PenFed Realty, wholly owned by PenFed (Pentagon Federal Credit Union), is a full-service real estate company with an annual sales volume over $1.7 billion; serving PenFed members as well as the general public. Recognized as a leading real estate company in its service area, it is ranked among the top Prudential affiliates nationwide. Over 1,700 top-notch sales professionals work out of Prudential PenFed Realty's 49 offices to provide complete real estate services in Delaware, Florida, Kansas, Kentucky, Maryland, North Carolina, Northern Virginia, Pennsylvania, Washington, D.C. and West Virginia.
Prudential PenFed Realty is an affiliate of the Brookfield/Home Service Franchise (Formerly Prudential Real Estate) Residential Property Services network. Its franchises are independently owned and operated. The network provides franchises with numerous benefits, including access to Prudential Real Estate's Online Seller Advantage® program designed to provide real-time information to sellers in an easy to use system; and Online Buyer Advantage®, enabling consumers to easily search for property in all 50 states and the District of Columbia. Prudential Real Estate is one of the largest real estate brokerage franchise networks in North America, with more than 1,500 franchise offices and 50,000 sales professionals in the franchise Network as of December 31, 2011.
©2013 BRER Affiliates LLC: An independently owned and operated broker member of BRER Affiliates LLC. Prudential PenFed Realty is an independently owned and operated member of BRER Affiliates LLC. PenFed Membership is not required to conduct business with Prudential PenFed Realty.
Learn more about Prudential PenFed Realty by visiting PenRedRealty.com, call our Career line at 888-732-8233, or email us at: careerline(at)PenFedRealty(dot)com.