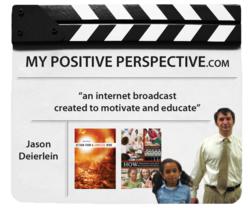 The walk for Autism is symbolic of the fact that exercise is very important for those that suffer from Autism
Charleston, SC (PRWEB) April 22, 2013
On April, 15, 2013, My Positive Perspective aired an episode, in April, centered around Autism awareness month. The episode featured guest Jennifer Tokarev who is the mother of a son with Autism. Tokarev has managed to mainstream her son into public education, and she would like to share her successful story of raising a child with Autism. During the episode, Tokarev was asked about one of the key things she associates with what the challenge of managing a child with Autism. Tokarev responded to the question saying, "Movement is the most important thing for parents of autistic children. Movement heals, activity must be present in their lives. Activity is so essential because it releases Dopamine and that helps alleviate some of the symptoms that children with Autism experience."
During the episode, the Walk for Autism event was mentioned by the host of the show Jason Deierlein. Tokarev said of the event, "On April 20th we are having the tenth annual Walk for Autism event at Hampton Park in downtown Charleston. The event's purpose is to raise money for families of children with Autism to provide scholarships for therapies otherwise not provided by insurance." After having an opportunity to mention some of the sponsors that helped put this event together, Tokarev said, "There will also be outreach programs at the event for families to enhance their knowledge on the subject of Autism."
Putting a positive end to the episode, Deierlein said, "The Walk for Autism event is really symbolic of the notion that walking and exercise is very important for those that suffer from this condition."
My Positive Perspective is a media outlet believing that improvement in our community will be best achieved by focusing on the good things happening in our world today. Having survived a near fatal car accident as a youth, a shift of perception forced one to have a mentality of always concentrating on the brighter sides of things. This was true, and in my book, Return From a Comatose Mind, this belief was put to the test. Appreciation for life was the biggest thing one took away from my brush with death, and it is because of that gives me such a huge desire to be helpful to many. My Positive Perspective is a way of overcoming challenges.