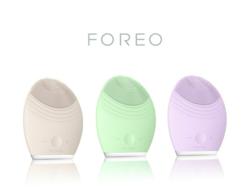 New York, NY (PRWEB) April 15, 2013
Swedish company FOREO continues to take the US beauty industry by storm with news that they will premiere the latest additions to their LUNA™ line of silicone facial skincare devices – the LUNA™ Professional Set and LUNA™ Pro –at New York's IECSC Show from April 14-16. Skincare professionals are invited to witness firsthand the superior qualities of FOREO's silicone Dual T-Sonic™ cleansing and anti-aging devices at Booth #3426, through the duration of the fair, following on from the company's hugely successful brand launch at CES this year.
Intended exclusively for use and sale by skincare professionals, the LUNA™ Professional Set differs from FOREO's current at-home devices through the inclusion of Dual T-Sonic™ technology and a set of two devices each with a unique four-zone cleansing brush. Placed in the hands of professionals, both can be used simultaneously on the face while the stronger, deeper pulsations maximize the cleansing and anti-aging benefits of FOREO's sonic devices. The LUNA™ Pro meanwhile offers a professional level cleansing and anti-aging device in the comfort of home, offered for sale in select professional channels only to bring that exquisite post-appointment feeling for customers in between treatments.
Advantages LUNA™ Professional Set/LUNA™ Pro:

Dual T-Sonic™ technology sends up to 8,000 pulsations per minute beneath the skin's surface, cleaning deeply without the abrasive rotary scouring of conventional sonic-cleansing devices.
Four-zone silicone cleansing brush with more than 1,000 soft, flexible silicone touch-points in unique arrangement to be ultra-hygienic and suitable for all skin types.
Cleansing Mode causes pulsations to clear away dead skin cells and unclog pores, while removing dirt, oil and makeup residue.
Anti-Aging Mode helps to smooth wrinkles and relax away expression lines.
100 percent waterproof with more than 450 uses coming from a single charge, plus two-year manufacturer's warranty included.
FOREO has already made a worldwide splash with news that its flagship LUNA™, LUNA™ for MEN and LUNA™ mini devices will be arriving in stores worldwide from this month onwards. The addition of the LUNA™ Professional Set and LUNA™ Pro now extends the company's mission to meet growing demand from consumers for the highest level skin-care solutions.
LUNA™ Professional Set and LUNA™ Pro will be available exclusively through professional channels worldwide from mid May 2013 onwards.
FOREO's 10-year research and development project has drawn on the talents of a multi-disciplinary team of specialists, including dermatologists, cellular biologists, dieticians and estheticians. The LUNA™ range – the first facial-cleansing and anti-aging devices to combine multiple-frequency pulsations with intelligently contoured silicone brush surfaces – is the brand's first release in their pursuit of a holistic and scientific skin-care philosophy.