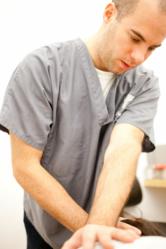 New York, NY (PRWEB) April 17, 2013
One of top rated chiropractors in New York City is opening up his practice to people who may not be able to get get treatment during the week. People with back pain emergencies can also come in, get treatment, and in some cases won't even have to sacrifice their weekend dealing with pain. The weekends are a hard earned right, especially in Manhattan, and no one should have to be stuck in bed, suffering from acute back or neck pain.
It's welcome news for many professionals who may not have the option of taking off a day or even a few hours from work. Anyone who works in the nearby financial district can attest to the fact that "time is money." Many people in NYC also work long, or odd hours and simply count getting help from a medical professional for their pain among their few luxuries. To accommodate every possible patient and existing patients that may want to switch their treatments to weekends to keep form losing work hours, Dr. Shoshany has made chiropractic care even more accessible.
Dr. Shoshany and his associates are known for providing the latest, cutting edge treatment protocols available at their integrated practice. Combining disciplines to treat patients in a medical home type setting has shown great results and Dr. Shoshany has been one of the pioneers of the integrated approach to treating pain and injuries in New York. Working alongside medical doctors, massage therapists, acupuncturists, and pain management specialists, he's seen how beneficial this approach can be for a patient. The patients Dr. Shoshany treats range form actors, models, athletes, to wall street stock brokers and students. Each particular person comes with their own particular causes for injuries, medical needs, and expectations for recovers and Dr. Shoshany prides himself on treating the individual root causes of each problem.
While he's been providing chiropractic services for well over ten years his repertoire has only grown. From chiropractic manipulation to ART, Kinesio taping, sports massage, pain management, cold laser therapy, and spinal decompression. These treatments are now also available on the weekend to help New Yorkers get out of pain fast, and without the need for invasive surgeries.