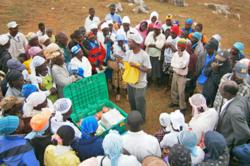 We were forced to live under a tarp for several weeks before we received a ShelterBox.
Sarasota, FL (PRWEB) April 16, 2013
International disaster relief organization, ShelterBox continues to distribute humanitarian aid to the many families in Haiti that remain in need after Hurricane Sandy ripped through the country in late October 2012.
ShelterBox provides humanitarian aid—emergency tented shelter and other supplies, such as stoves, blankets and water filtration systems, among other tools to help families rebuild their lives after losing their homes and possessions following a disaster such as earthquake, volcano, flood, hurricane, cyclone, tsunami or conflict.
Not only did Tropical Storm Isaac strike just a couple of months before Sandy, but Haiti was, and still is, recovering from the 2010 earthquake that left over two million homeless and led to a widespread outbreak of cholera and food shortages.
Humanitarian organizations like ShelterBox have provided aid to more than 1.5 million people since the 2010 earthquake, and have helped return or relocate 77 percent of these people out of camps.
"We [10 people] were forced to live under a tarp for several weeks before we received a ShelterBox. We now have a safe place for sleeping every night and to recover a normal life," one ShelterBox recipient said.
ShelterBox Response Teams (SRTs) continue to distribute aid with the help of partner organizations that have a thorough knowledge of the country's geography and good understanding of Haiti's long-term recovery, including International Organization for Migration (IOM) and Handicap International (HI).
ShelterBox is also currently providing aid to families affected by the Syrian conflict in Lebanon and Jordan, Typhoon Bopha in the Philippines and conflict in Myanmar.
ABOUT SHELTERBOX
Since 2000, ShelterBox has provided shelter, warmth and dignity following more than 200 disasters in over 85 countries. ShelterBox instantly responds to earthquake, volcano, flood, hurricane, cyclone, tsunami or conflict by delivering boxes of aid and other supplies. Each iconic green ShelterBox contains a disaster relief tent for an extended family, stove, blankets and water filtration system, among other tools for survival. ShelterBox's American affiliate, ShelterBox USA, is headquartered in Sarasota, Florida. Individual tax-deductible donations to ShelterBox USA can be made at http://www.shelterboxusa.org or 941-907-6036.
# # #