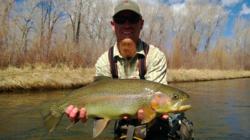 "The Rainbow Trout Ranch stretch is the most productive of the whole river." Jon Harp, owner of Conejos River Anglers which hosted the 9th Annual Superfly Tournament.
Antonito, CO (PRWEB) April 16, 2013
Sunday, April 14th, marked the final day of the 9th Annual Conejos Superfly, a fly fishing tournament hosted by Conejos River Anglers to help fund raise for the Conejos Habitat. Winners Troy Smith and Isaac Dean drew the Rainbow Trout Ranch stretch for one of their two days.
The Conejos River is well known in fly fishing circles and is currently nominated as a Gold Medal River. Conejos River Anglers owner Jon Harp has been hosting the Conejos Superfly for nine years as a collaborative effort with Trout Unlimited, the Forest Service and the Division of Wildlife to restore and preserve the river for the Conejos Habitat project.
The river runs through six hundred acres belonging to the Rainbow Trout Ranch, a full-fledged dude and guest ranch from the end of May to the third week of September each year. They have donated use of their stretch of the river to the Superfly each year and Harp says "theirs is the most productive of the whole river." He goes on to say that winners Smith and Dean caught about fifty-five fish on the Rainbow Trout Ranch stretch which they were lucky enough to draw for one of their fishing days.
About Rainbow Trout Ranch
Rainbow Trout Ranch is a family owned dude ranch in excellent standing with both the state and national dude ranching associations, and exclusively five star reviews on Trip Advisor. The ranch has a long tradition of providing superb western hospitality for families, couples, groups and singles looking for an adventure vacation in the Rocky Mountains of southern Colorado. Inquiries can be made to 800.633.3397 or the website.