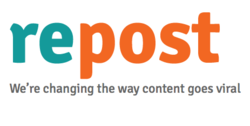 Repost gives everyone -- from a small blogger to a major media company -- the option to have their content easily distributed to a wider audience.
San Francisco, CA (PRWEB) April 16, 2013
Digital publishers face some staggering stats: there is less than a 2% chance that a reader will click on a link. Even worse, if someone does click through, it yields an average of just 1.7 pageviews per visit. Repost, which launched today, provides a radical solution to lost viewership and pageviews by making content portable, taking it straight to the reader.
Repost is a content sharing platform that republishes whole articles with the creator's brand, attribution, images, links, video, advertising and analytics right onto other publishers' sites. The technology is similar to a video embed code -- an easy solution that has been successfully monetized for years. Repost gives more control to branded publishers, cuts down on content theft, and increases potential pageviews and ad revenue through exposure to new audiences.
"Small and large publishers are forced to spend an inordinate amount of time and money to get readers to come to their sites. We decided to turn this model around and let the content go to the readers instead of waiting for them to come to you," said John Pettitt, Repost Founder/CEO. "Repost gives everyone -- from a small blogger to a major media company -- the option to have their content easily distributed to a wider audience. And Reposted content has proven that it delivers an average 5.7% click-through rate to the original publisher and up to three-times more page depth per visit, which represents a phenomenal rate of engagement and economic opportunity."
Repost is free and simple to use. It's easy to install on most publishing platforms including Wordpress and Blogger. Publishers can enable the Repost button on their sites right next to the Twitter, G+, Facebook and Pinterest buttons. Those looking for new content can visit Repost.Us to discover and share more than 3,000,000 articles from over 4000 publishers.
Jeff Jarvis, author and associate professor at City University of New York's Graduate School of Journalism/Tow-Knight Center for Entrepreneurial Journalism, recently joined the Board of Advisors of Repost. "Repost should end the wars over aggregation and copyright," said Jarvis. "The Repost technology changes the fundamental architecture of content distribution on the net, and reinvents and reverses the idea of content syndication. Repost enables content to fly around the web with its creator's business model attached. It helps content creators find new and highly qualified audiences--and helps publishers find new and valuable content."
In addition to making content portable, Repost solves the problem of generating fresh content for websites that have cut back on their content production. According to a recent Pew Research State of the Media/News, http://stateofthemedia.org/2013/overview-5/, 31% of viewers abandon websites if there isn't sufficient content. Repost provides a repository of content on its site from leading news sources including these new publishing partners:

New publishers are joining Repost daily and the current roster including The Christian Science Monitor, PBS Newshour, AFP, The Raw Story, Slashdot, The Inquirer, PRNewswire, GlobalPost are just a few of the 4000 publishers already using Repost.
About Repost
Repost is redefining the way online content is shared and seen. With just a few clicks, Repost instantly republishes full articles with original branding, attribution, ads, photos, videos and links right onto another publisher or blogger site. Repost has gone beyond links to help publishers, bloggers and brands protect their content, increase viewers and potential ad revenue, and generate increased page views, click-throughs and page depth. We're changing the way content goes viral. http://www.repost.us
Contacts:
MeekerQuinn for Repost
Heather Meeker: heather(at)meekerquinn(dot)com 415 799 4879
Carol Quinn: carol(at)meekerquinn(dot)com 310-598-3673
Additional full quotes:
From Tony Dearing, Local Content Director at NJ.com: "Large media organizations have always wanted to own readers or viewers of their content. They hoard readers and compete with other organizations. In the online world, it's exactly the opposite. The user should be at the heart of the content consumption experience. Repost offers a different option – bring your content to where your readers are. The term game changer gets thrown around a lot – but I truly believe Repost is a game changer. It's about getting the best content to the largest number of readers."