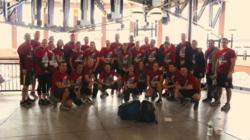 "Our team performed extremely well at the race"
Bohemia, NY (PRWEB) April 17, 2013
On April 17, the CEO of online marketing firm fishbat, details the highlights of the Spartan Race event at Citi Field and announces its final fundraising total of approximately $15,000.
Last Saturday, over 764 teams and nearly 10,000 individuals ran at the Spartan Race event at Citi Field in Flushing Meadows, NY. The "fishbattlers vs. Sandy" team finished 81st with 33 runners and a combined time of 51 minutes and 21 seconds.
fishbat CEO Clay Darrohn says the team finished in the top 10 percent and had a really successful day. "Our team performed extremely well at the race," he says. "I'm proud of each and every one our runners for helping each other out. They all pushed through the pain and it paid off."
The race featured around 20 strength-testing obstacles, such as a 12-foot wall and the "Hobie hop." Darrohn says these tasks were extremely difficult. "The obstacles were challenging for the runners because they were physically demanding," he says. "Spartan Race did a great job at putting together an insanely tough course, but it made finishing and garnering decent times that much better. We were also running for a good cause, so it was definitely worth it."
Darrohn says finishing the race was a great accomplishment, but the amount of money raised for Superstorm Sandy victims was most rewarding. He says fishbat partnered with Island Harvest in an effort to raise money for the thousands of people on Long Island still displaced as a result of Superstorm Sandy and those still struggling with hunger.
"Although not completely tallied, our team, including members from Island Harvest, is confident that we exceeded our goals and raised an estimate of $15,000 to help people devastated from Superstorm Sandy," he says. "I don't think people realize there are still families suffering from hunger and financial problems as a result of the storm. As an island, we have bounced back from the disaster, but we're still not back to normal. Our goal was to raise money to help these people and I'm happy to announce that we have exceeded our fundraising goals. I know Island Harvest will put the money to good use and save lives."
Darrohn says fishbat looks forward to future partnerships with Island Harvest and thanks those involved with Spartan Race.
fishbat, Inc. is a full service online marketing firm. Through social media management, search engine optimization (SEO), web design, and public relations, fishbat strives as a marketing firm to raise awareness about your brand and strengthen your corporate image.
#####