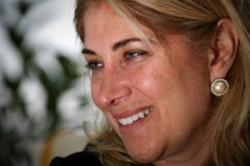 Leadership is only a matter of sitting at the table and believing that each of us has a leader within to make a difference in what we are passionate about.
San Francisco, CA (PRWEB) April 16, 2013
Powerful Women International is proud to present its annual Women of Legacy Awards and Conference now in its third year (early bird ends April 17th). The event was created to honor women of courage that are leaving a legacy, using their innate gifts to positively impact world change. Seval Oz has made strides that have impacted lives worldwide through her work with Google X (as in solving for [x]), a part of Google Inc. She is responsible for business development and strategic partnerships for the group. Oz travels the world bringing together those organizations (companies) and individuals, to bring a new form of mobility to the world that is sustainably changing lives. She created the award winning video starring Steve Mahan, a man 95% blind and head of the Santa Clara Valley Blind Center who "drove" the self-driving car.
The Women of Legacy event is designed to inspire and motivate women (and men) to live their dreams fulfilled, and step into their power with purpose and grace. Seval Oz will be speaking about the development of Google's Self-Driving Car and the importance of creating a safe haven for those who are not able to mobilize on their own, and how this gift of independence is creating freedom for people that is unprecedented. She will also speak on women in leadership. The entire Google X team are amazing people revolutionizing transportation (and more). (A full bio on Seval Oz can be found on the WomenofLegacyAwards.com website.) Oz believes that as women it is our duty to be all we can be. "I believe powerful women carry a privileged responsibility to ensure that generations of younger and older women have opportunities to exemplify leadership in their own domains. It was difficult for me to re-enter the fast-lane after I had taken time off to start a family. Only through staying connected, current and confident was I able to utilize resources around me to get back on track. Leadership is only a matter of sitting at the table and believing that each of us has a leader within to make a difference in what we are passionate about," says Ms. Oz.
Keynote for the event is Laurel Bellows, president of the American Bar Association and principal of Bellows Law Group, P.C. She will be speaking on anti-human trafficking, and what we can all do to spot those in trouble and how to help them, as well empowering women in the workplace. Other speakers and awardees include Darlene Willman, host of ACCOMPLISH Radio, award winning speaker and Accomplish Coach, Sahar Kordahi and Donna Stoering. More information about these gifted women and what they will be honored for can be found on Womenoflegacyawards.com. This year's theme will build on leaving a legacy, by celebrating those who are making our world a safer place to grow individually and professionally, and the diverse ways that is done.
"We are honored to have the president of the American Bar Association keynote our event, as well as the other amazing speakers that will be joining us, sharing their stories that inspire world change. It will be a privilege to honor them all with the Women of Legacy Award, and we hope that Google will join us in honoring Seval's contribution," says Valeri Bocage, founder and chairwoman of Powerful Women International. The event brings people together to honor inspiring women of courage that put family and life balance as priority, while using their innate gifts to impact society for women, families and communities globally. The event provides an opportunity to build relationships, collaborate with women in business, non-profits and government. Early bird rate is $100 and ends April 17, 2013. Sponsorship opportunities can be found on the website, and table rates are also available. Sponsors and partners include Constant Contact, CEO Space International, KingSings PR, Sheilds Marketing, Makeup Gourmet, Fan Page Direct, Public Speakers Association and more. Learn more about the event, registration, and other speakers and awardees by visiting http://www.WomenofLegacyAwards.com.
About Powerful Women International
We create powerful platforms for connecting women, igniting passions and creating breakthroughs. Our tagline, "Empowering Women to Empower the World," exemplifies our commitment to making the world a better place through women's passion and purpose. Our programs enhance, empower, educate and expand women's lives, to assist them in discovering their fullest potential. We strive to help women unleash their passion, and overcome obstacles to achieve their dreams and goals in life.