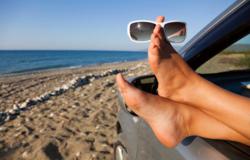 No matter your level of expertise, there is something in the Car Care section that can help you improve your know-how and the health of your automobile.
Torrance, CA (PRWEB) April 17, 2013
Spring is in full swing, and while that means beautiful weather and tons of baseball, it also presents a new set of challenges when it comes to car care. As vehicles emerge from their winter cocoons in the garage, there are many ways to ensure they're in top running order for the warm summer months. This Spring, the autoMedia.com Car Care section of articles is a valuable tool, a resource full of advice and DIY projects that will keep any car running smoothly.
The autoMedia.com team of expert journalists and seasoned mechanics draw upon their decades of experience to produce tips and tricks of the trade in the Car Care section. Whether the vehicle is in pristine condition or being held together only by rust, Car Care articles help owners gain a better understanding of their vehicle and what it takes to maintain it.
"The early months of Spring is the perfect time to make sure your car is operating properly, and the autoMedia.com Car Care section offers helpful information and tutorials to diagnose and fix the common culprits," said Doug Hamlin, Founder and CEO of autoMedia Solutions. "No matter your level of expertise, there is something in the Car Care section that can help you improve your know-how and the health of your automobile. Sometimes it's as easy as knowing which fluids to check, and how. When more complicated issues like engine maintenance come into play, the Car Care section can lend a hand with that, too."
These days, fewer and fewer car owners take maintenance into their own hands. Bringing the vehicle to an expert may be simple, but it can also be costly, and performing simple checks and fixes often eliminates the problem before it even begins. The fact is that doing a little bit of work now prevents a lot of work – and money – down the line. This is especially true with high-mileage vehicles. The autoMedia.com Car Care section can teach owners how to easily identify automotive Senior Moments, diagnose problems with disc brakes, or replace spark plugs. For an easy guide, the ten-step guide to Spring Car Care will point any driver in the right direction. Hey, a little research never hurt anybody.
For gearheads that are really looking for grease, there are more intensive maintenance guides to satisfy any craving. Learn how to rebuild a turbocharger, or test for cylinder leakage problems. Need a new steering rack? Slap in a new one with this guide. Camshafts causing a headache? Learn how to install and degree them the right way. Of course, if this is all too much, start with the beginner's bible: Dumb Things Drivers Do To Their Cars. Just make sure to avoid everything on this list, and auto health will automatically improve.
With hundreds of articles to choose from, and something for everyone from novice to Formula pit crew, the autoMedia.com Car Care section is the perfect place to brush up on automotive knowledge. Summer is right around the corner, and autoMedia.com can help make sure that every ride is ready.
About autoMedia.com: The auto website was launched in September 2000 by a team of automotive editorial, design, and publishing professionals, with the goal to be the premier provider of quality automotive content on and for the Web. Today it features over 92,500 pages of original articles, including over 2,500 features researched and written by leading automotive experts, covering new and used car buying, new vehicle previews, road test reviews, car care maintenance, professional driving advice, and technology. Automotive enthusiasts and new car shoppers can read about the latest industry news, pricing, rebates and incentives, view photo galleries and research details on all makes and models. For more information, visit autoMedia.com.