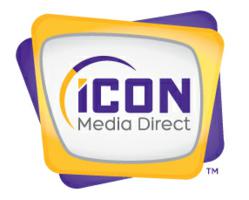 Van Nuys, CA (PRWEB) April 16, 2013
Icon Media Direct unveiled a redesigned logo and website this week. The agency, renowned in the industry for providing creative and accountable media solutions for emerging and household brands, utilized a clean, modern design with an iconic retro twist to compliment the advanced technological initiatives the company has recently implemented.
Nancy Lazkani, President and CEO, stated "Icon Media Direct's focus over the last few years has been to increase our technological and analytical capabilities. With more media channels now than ever before and data pouring in from all sides, we've worked tirelessly to create proprietary analytics platforms, like Icon WebTraxx™, that will give our clients clarity and depth on how their campaigns are performing across multiple media channels. Once these innovations were in place and running smoothly, we felt the next step was to revamp our design to reflect the modern initiatives of our agency."
Lazkani adds, "Due to our strong brand recognition, we did not want to veer too far away from our roots and become unrecognizable, but felt it was time to update our look while maintaining solid brand identity. The new design reflects the modern advancements we're making while still maintaining that iconic retro feel we've always been known for."
Feedback on the design thus far has been highly positive and has created a healthy buzz about the new and exciting innovations happening at Icon Media Direct.
ABOUT ICON MEDIA DIRECT
Icon Media Direct is the advertising industry's premier direct response marketing agency driving incremental sales, brand awareness and direct revenue for emerging and household brands. Headquartered in greater Los Angeles, the agency specializes in media buying & planning and campaign management to create successful direct response campaigns that produce accountable results on television, in print, online and at retail. To learn more, visit Icon Media Direct online at http://www.IconMediaDirect.com.
For more information, please contact Rebecka Rodriguez at 818-995-6400.
# # #