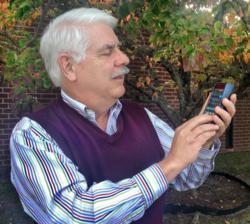 Behr has been a leader and innovator in the broadcast and wireless communications engineering industry for over 50 years.
Greenville, NC (PRWEB) April 15, 2013
Lawrence Behr, CEO of LBA Group, Inc., in Greenville, NC will join two other broadcast engineering colleagues in receiving the Society of Broadcast Engineers (SBE) coveted Fellow designation. The select few who receive this high honor must have made significant contributions to the broadcast engineering field or the SBE.
Behr has been a leader and innovator in the broadcast and wireless communications engineering industry for over 50 years. He has contributed his expertise to both the private and public telecommunications sectors, from the management of corporate, military and government infrastructure projects. Over the years, Behr has developed new antenna systems and lightning protection products. He holds numerous issued and pending patents on these products. Many of these cutting edge developments are part of the LBA product offerings.
Behr has also served as an expert witness on matters relating to telecommunications infrastructure, regulation and allocations. This includes having his expertise called upon on numerous occasions for briefings before the Federal Communications Commission.
The SBE Fellow honor comes as Behr's company, founded as Lawrence Behr Associates, Inc., celebrates 50 years in business. Today, LBA Group, Inc. continues providing expert consulting services to a diverse and notable clientele throughout the world. Another LBA Group company, LBA Technology, Inc., has become a respected worldwide provider of RF equipment including high power medium wave antenna systems, industrial RF systems, and RF safety equipment. Behr's company has also recently launched LBA University, Inc. which provides OSHA RF safety training and other regulatory compliance training.
Candidates for SBE Fellow are nominated by their peers. Just 62 members have been honored with the Fellow rank in SBE's 49 year history. In addition to Behr, James B. Schoedler of Denver, CO and Larry J. Wilkins of Prattville, AL will be recognized for their election to Fellow during the SBE National Awards Dinner on Oct. 30, 2013 in Indianapolis. The dinner is part of the annual SBE National Meeting.
About LBA Group Inc.
LBA Group, Inc. has 50 years of experience in providing electromagnetic protection for industrial and telecommunications infrastructure assets. It is comprised of LBA Technology, Inc., a leading manufacturer and integrator of radio frequency systems, lightning protection, and EMC equipment for broadcast, industrial, and government users worldwide; the professional engineering consultancy Lawrence Behr Associates, Inc.; and LBA University, Inc. providing on-site and online professional training. The companies are based in Greenville, N.C., USA.
Keep up with the LBA companies on Facebook at: http://www.facebook.com/LBAGroup.