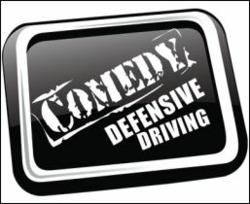 (PRWEB) April 15, 2013
Comedy Defensive Driving, the popular provider of award-winning online defensive driving courses, has announced the addition of their latest YouTube video series. The new series, called "Man on the Street", is available now for immediate viewing via YouTube. This series is part of Comedy Defensive Driving's ongoing effort to make driving information more accessible and entertaining for people seeking online defensive driving resources.
The "Man on the Street" series is centered on their comedic hosts asking random people on the street certain driving-related questions and presenting them with various related topics. Comedy ensues as everyday people respond with their unique and often colorful perspectives on the driving-related topics at hand.
This web-series is designed to offer a short, yet highly entertaining look at some of today's most pertinent defensive driving related issues. The themes, ranging from proper blinker use to drunk driving, are addressed in a lighthearted but informative way. Comedy Defensive Driving receives a cavalcade of hilariously unexpected answers throughout the series, such as "How do you communicate when driving", "What to do when you get a traffic ticket", and the hysterical St. Patty's Day themed "What is the best way to sober up?"
Comedy Defensive Driving is a leader in providing best-in-class defensive driving school courses in both classroom settings and online. They are dedicated to supplying a simple, fast, and fun way to complete a defensive driving course and more. Their instructors are famous around the country for making their classrooms and online courses fun, entertaining and interactive. Comedy Defensive Driving welcomes visitors to peruse their YouTube Channel and enjoy their many entertaining clips and more.
About Comedy Defensive Driving
Comedy Defensive Driving is a popular driving school offering both online and classroom courses. Established in 1989, Comedy Defensive Driving has since served over 2.5 million customers around the country. Their offer award-winning online defensive driving courses offer a simple, fast, and fun way to complete defensive driving courses. Their state approved programs are designed to be flexible, informative, and entertaining. Comedy Defensive Driving is BBB Accredited. For more information, visit http://www.comedydefensivedriving.com/, or follow them on Facebook, Twitter or YouTube.