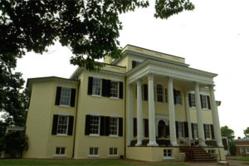 "The important question to ask yourself is where your target is online," says marketing expert, Nicole Skuba. "Should you devote the time to social media?"
Leesburg, VA (PRWEB) April 19, 2013
Nicole Skuba, partner at recently merged online marketing agency BlueTreeDigital, will share social media tips at the Dulles Divas event on Wednesday, April 24 held at the beautiful and historic Oatlands Plantation in Leesburg, VA. The event is billed as the Dulles Diva's Tea Party, Dress-Up & Social Media.
The Dulles Divas invites you to a "high" tea party and to play dress up with beautiful vintage hats Handmade by Miss Jenny. Tea includes tea sandwiches, scones and cream, jam, and various lemon and fruit bars. Also includes a unique tea only found at Oatlands. Miss Jenny is also a professional photographer and will be taking free photos of attendees. She will also share how important and useful photography and videography can be to promote business, especially in this age of social media.
Nicole Skuba will speak about social media for the small business. An online marketing expert with 12 years of experience developing strategy for major corporations such as Identity Guard®, Aptara Inc., and local entrepreneurs such as Securis and Lunchskins, Nicole will address how valuable social media can be to promoting small business.
"Social media is not just a new marketing tool, it's a whole new marketing environment full of exciting possibilities and implications for your business that never existed before," says Nicole. "The important question to ask yourself is where your target is online. Should you devote the time to social media?"
You can join Nicole Skuba at the Dulles Diva's Tea Party on April 24, 11:30 AM to 1:30 PM at the Oatlands Plantation in Leesburg, VA. Dulles Divas was co-founded by Michael Helene Phillips, owner of Michael Helene Salon Gallery, and Jennifer Seven, owner of 7Company Weight Loss & Wellness. "Our goal, to empower and educate woman in business, our mission, to inspire women to love themselves from the inside and out and to help one another to grow in business and in life." DIVA is an acronym for "Divine, Inspire, Victorious, Awesome."
Founded by Fortune 500 marketing strategists Sue Schuster and Nicole Skuba, BlueTreeDigital is a full-service marketing agency specializing in creative marketing solutions for small and medium-sized businesses. We overhaul the website, build relationships with email, acquire new customers with search, quickly reach the masses with targeted advertising, and keep the conversation going with social media. Grow your business with BlueTreeDigital.